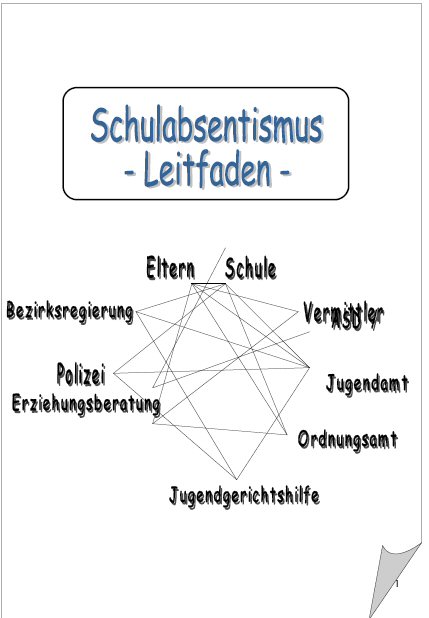 TITLE OF THE PUBLICATION
:
Schulabsentismus – Leitfaden
SURNAME AND NAME OF AUTHOR(S)
:
Stadt Wolfsburg, Bezirksregierung Braunschweig
PLACE AND DATE OF PUBLICATION
:
2004
TYPE OF PUBLICATION
:
Online Dokument, Broschüre
LANGUAGE/S OF PUBLICATION
:
Deutsch
LANGUAGE OF REVIEW
:
German
DESCRIPTION OF CONTENTS
:
Dieser Leitfaden der Stadt Wolfsburg gibt konkrete Handlungstipps zum Thema Schulabsentismus. Neben Begrifflichkeiten wird auf veschiedene Maßnahmen eingegangen, ein Maßnahmenkatalog für die drei Bereiche Prävention, Intervention und Rehabilitation wird vorgstellt und eine mögliche Vorgehensweise bei Schulabsentismus schematisch dargestellt.

Neben diesen eher allgemeinen Informationen steht die Vernetzung mit verschiedenen Kooperationspartnern im Mittelpunkt dieser Publikation. Theamtisiert werden Kooperationen mit der städtischen Erziehungsberatung, dem Allgemeinen Sozialen Dienst, dem Geundsheitsamt, dem Amtsgericht, aber auch das Vorgehen, falls eine Ordnungswidrigkeitenanzeige notwendig wird.

COMMENTS ON THIS PUBLICATION
:
Nützliche Handlungsanleitung
NAME OF COMPILER
:
PD Dr. Gabriele Dlugosch
NAME OF INSTITUTION
:
Zentrum für empirische pädagogische Forschung (zepf)
Universität Koblenz-Landau, Campus Landau
ROLE
:
Leiterin des Kompetenzzentrums Gesundheit und Wohlbefinden