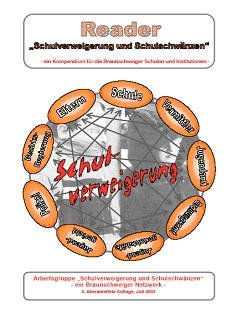 TITLE OF THE PUBLICATION
:
Reader "Schulverweigerung und Schulschwänzen" – ein Kompendium für die Braunschweiger Schulen und Institutionen
SURNAME AND NAME OF AUTHOR(S)
:
Stadtverwaltung Braunschweig
PLACE AND DATE OF PUBLICATION
:
2003
TYPE OF PUBLICATION
:
Online Dokument, Broschüre
LANGUAGE/S OF PUBLICATION
:
Deutsch
LANGUAGE OF REVIEW
:
German
DESCRIPTION OF CONTENTS
:
Dieser Reader stellt neben Begrifflichkeiten vor allem konkrete Maßnahmen dar. Theamtisiert wird die Kooperation mit der Erziehungshilfe, dem Ordnungsamt, der Jugendgerichtshilfe, dem Amts- und Jugendgericht und mit der Polizei.
Interessant in diesem Dokument sind auch die Vordrucke und Musterschreiben wie zum Beispiel Mahnschreiben an die Eltern oder eine Ordnungswidrigkeitenanzeige im Anhang sowie ein Aufsatz über Schulpflichtverletzungen.
Der Umgang mit Schulverweigerung und Schwänzen sowie ein detaillierter Maßnahmenkatalog sind tabellarisch dargestellt und so allgemein gehalten, dass sie als Empfehlungen für den generellen Umgang mit Schwänzen und Schulverweigerung gelten können.
Das zentrale Thema dieses Readers ist die Vernetzung mit Kooperationspartnern außerhalb der Schule.

COMMENTS ON THIS PUBLICATION
:
Der Reader ist das Ergebnis der Arbeitsgruppe "Schulverweigerung und Schulschwänzen – ein Braunschweiger Netzwerk".
NAME OF COMPILER
:
PD Dr. Gabriele Dlugosch
NAME OF INSTITUTION
:
Zentrum für empirische pädagogische Forschung (zepf)
Universität Koblenz-Landau, Campus Landau
ROLE
:
Leiterin des Kompetenzzentrums Gesundheit und Wohlbefinden