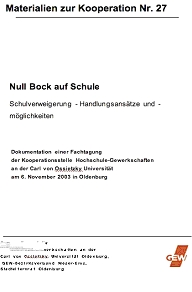 TITLE OF THE PUBLICATION
:
Null Bock auf Schule. Schulverweigerung – Handlungsansätze und -möglichkeiten

SURNAME AND NAME OF AUTHOR(S)
:
Kooperationsstelle Hochschule – Gewerkschaften an der Carl von Ossietzsky Universität Oldenburg und GEW-Bezirksverband Weser-Ems
TYPE OF PUBLICATION
:
Dokumentation einer Fachtagung
LANGUAGE/S OF PUBLICATION
:
Deutsch
LANGUAGE OF REVIEW
:
German
DESCRIPTION OF CONTENTS
:
Theoretische Überlegungen zu Bedeutung, Prävention und Handlunsgmöglichkeiten bei Schulabsentismus über verschiedene Darstellungen der Kooperationsmöglichkeiten bis hin zu Praxisbeispielen in der Prävention von Schulver-weigerung. aTexte gibt es zur Schulverweigerung aus Sicht der Jugendsozialarbeit, zu Angeboten des Stadtschulamtes und zu Aufgaben der Polizei im Zusammenhang mit Schulschwänzen und Delinquenz.
COMMENTS ON THIS PUBLICATION
:
Dieses Dokument stellt die Materialien einer Fachtagung in Oldenburg zum Thema Schulverweigerung zusammen. Referenten waren bei dieser Fachtagung neben regionalen Beauftragten auch zwei nationale Experten zum Thema Schulabsentismus.
NAME OF COMPILER
:
PD Dr. Gabriele Dlugosch
NAME OF INSTITUTION
:
Zentrum für empirische pädagogische Forschung (zepf)
Universität Koblenz-Landau, Campus Landau

ROLE
:
Leiterin des Kompetenzzentrums Gesundheit und Wohlbefinden