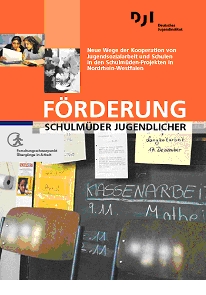 TITLE OF THE PUBLICATION
:
Förderung schulmüder Jugendlicher. Neue Wege der Kooperation von Jugendsozialarbeit und Schulen in den Schulmüden-Projekten in Nordrhein-Westfalen
SURNAME AND NAME OF AUTHOR(S)
:
Hofmann-Lun, I. & Kraheck, N.
PUBLISHER
:
Deutsches Jugendinstitut e.V.
PLACE AND DATE OF PUBLICATION
:
München, 2004
TYPE OF PUBLICATION
:
Online Dokument, Bericht
LANGUAGE/S OF PUBLICATION
:
Deutsch
LANGUAGE OF REVIEW
:
German
DESCRIPTION OF CONTENTS
:
In einem ersten Kapitel werden Zielsetzung, Fragestellung und methodische Umsetzung der "Schulmüden-Projekte" dargestellt und Kapitel zwei fasst kurz den Forshungsstand zusammen. Im Hauptteil der Dokumentation werden die Schulmüden-Projekte vorgestellt. Die in den Projekten praktizierten Ansätze lassen sich drei Typen von Präventionsstrategien zuordnen. Erstens Projekte, die eine Förderung der Jugendlichen außerhalb der Schule zum Inhalt haben, zweitens Angebote, die versuchen am Lernort Schule selbst präventiv die potentiell schulmüden Jugendlichen zu erreichen und dem Herausfallen bereits in einem frühen Stadium zu begegnen bzw. bereits schulverweigernde Jugendliche wieder in die Schule zurück zu holen. Der dritte Ansatz kombiniert schulische und außerschulische Lernorte und betont daher insbesondere die Kooperation von Schule mit relevanten Institutionen, Trägern der Jugendsozialarbeit und (sozial-) pädagogischen Fachkräften.
COMMENTS ON THIS PUBLICATION
:
Dieser Bericht fasst die Ergebnisse der "Schulmüden-Projekte in Nordrhein-Westfalen" zusammen, es werden jedoch keine konkreten Projekte beschrieben.
NAME OF COMPILER
:
PD Dr. Gabriele Dlugosch
NAME OF INSTITUTION
:
Zentrum für empirische pädagogische Forschung (zepf)
Universität Koblenz-Landau, Campus Landau

ROLE
:
Leiterin des Kompetenzzentrums Gesundheit und Wohlbefinden