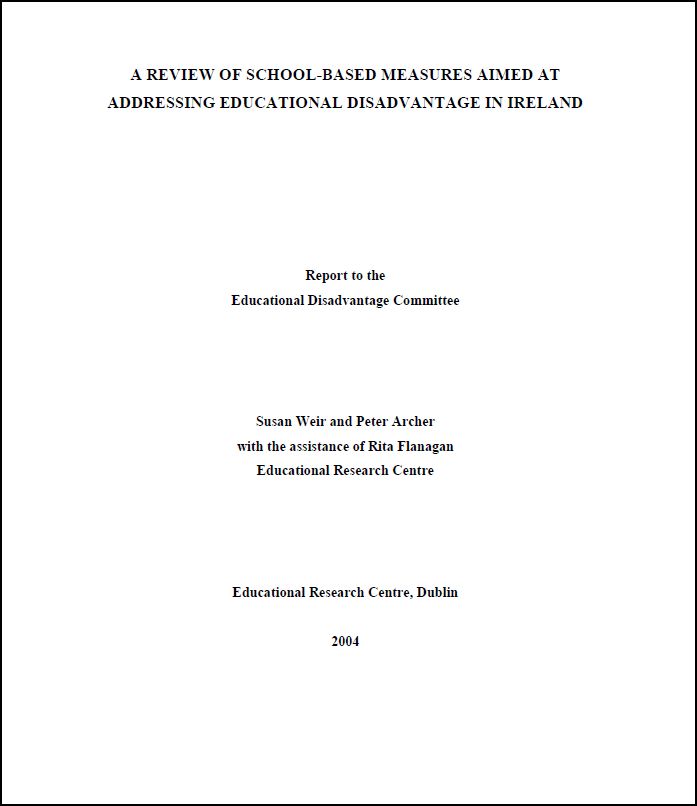 TITLE OF THE PUBLICATION
:
A review of School Based Measures aimed at Addressing Educational Disadvantage
SURNAME AND NAME OF AUTHOR(S)
:
Susan Weir and Peter Archer
PUBLISHER
:
Educational Research Centre, Dublin
PLACE AND DATE OF PUBLICATION
:
Ireland 2004
TYPE OF PUBLICATION
:
Report to Educational Disadvantage Committee
LANGUAGE/S OF PUBLICATION
:
English
LANGUAGE OF REVIEW
:
English
DESCRIPTION OF CONTENTS
:
This report is an overview of selected programmes in the formal school sector which are aimed at addressing the problems of disadvantage at preschool, primary, and post-primary levels in Ireland. The programmes include the Rutland Street Project, Early Start, and Preschools for Travellers at preschool level; Breaking the Cycle, the Support Teacher Project (previously known as the Teacher/Counsellor Project. Each programme is addressed individually with particular reference to rural and Traveller education.

The report is based almost exclusively on the results of programme evaluations, with a major focus on the extent to which each of the initiatives has been successful in meeting its original aims and objectives.

COMMENTS ON THIS PUBLICATION
:
The report is a good overview of the programmes available
NAME OF COMPILER
:
Ann Caulfield
NAME OF INSTITUTION
:
Mayo Education Centre