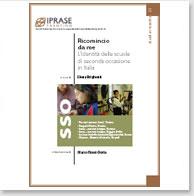 TITLE OF THE PUBLICATION
:
Ricomincio da me. L'identità delle scuole di seconda occasione in Italia
SURNAME AND NAME OF AUTHOR(S)
:
IPRASE Trentino, a cura di Elena Brighenti. Introduzione di Marco Rossi Doria
PUBLISHER
:
IPRASE Trentino
PLACE AND DATE OF PUBLICATION
:
Trento, Provincia autonoma, 2006
TYPE OF PUBLICATION
:
Libro e documentazione
LANGUAGE/S OF PUBLICATION
:
Italian
LANGUAGE OF REVIEW
:
Italian
DESCRIPTION OF CONTENTS
:
La scuola di seconda occasione: scopi e destinatari, organizzazione e risorse professionali, riferimenti pedagogici e strategie di rimotivazione e riorientamento. È un contributo che valorizza il lavoro sviluppato in questi contesti, consente indirettamente ai lettori una lettura analitica sui processi tesi a favorire il rientro nei circuiti formativi e può forse portare altri soggetti a riconoscersi in queste esperienze e a diventare partecipi delle azioni di promozione e aggregazione che la ricerca IPRASE si ripromette di sostenere tra chi sta impegnandosi perché la società della conoscenza non perda nessuno.
COMMENTS ON THIS PUBLICATION
:
Un libro utile per entrare nelle esperienze di rientro nel circuito formativo, anche se visto in una realtà particolare come la provincia di Trento.
NAME OF COMPILER
:
MArco MAnzuoli
NAME OF INSTITUTION
:
IPS Francesco Datini Prato