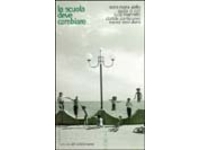 TITLE OF THE PUBLICATION
:
La scuola deve cambiare
SURNAME AND NAME OF AUTHOR(S)
:
Pontecorvo, Rossi-Doria, Marchetti, Ajello, Di Cori
PUBLISHER
:
L'ancora del Mediterrane
PLACE AND DATE OF PUBLICATION
:
Napoli 2002
TYPE OF PUBLICATION
:
libro
LANGUAGE/S OF PUBLICATION
:
Italiano
LANGUAGE OF REVIEW
:
Italian
DESCRIPTION OF CONTENTS
:
In un testo volutamente pacato nei toni ma forte per i contenuti, per le soluzioni proposte e per le argomentazioni offerte, si fa appello ai docenti, ai ragazzi e alle ragazze, a tutti gli educatori e ai cittadini per costruire insieme una scuola davvero pubblica e dunque finalmente libera e responsabile. Con il profilarsi di "nuovi" orientamenti nella politica sulla scuola, c'è un allarme diffuso: è, infatti, in atto un attacco al diritto all'istruzione e cresce il disorientamento in chi fa scuola. È dunque tempo di riprendere ovunque la riflessione e richiedere con forza il cambiamento della scuola in direzioni precise, in modo da promuovere i diritti, il sapere e i progetti di vita di tutte le persone in crescita. A partire da queste pagine molto dense che è possibile rilanciare una riflessione collettiva nel merito di cosa cambiare, e come e perché e di cosa conservare – come patrimonio importante – e come e perché. Ben sapendo che non esistono soluzioni facili e immediate.
COMMENTS ON THIS PUBLICATION
:
In ogni materia trattata, gli autori cercano il pro, il contro, i punti di equilibrio.
Proprio come nelle migliori esperienze educative, dove la regola è che l'insegnare viene continuamente modificato dall'apprendere, lasciano spalancate porte e finestre. Convinti che «il testo verrà arricchito dal dibattito che ne seguirà».
NAME OF COMPILER
:
Marco Manzuoli
NAME OF INSTITUTION
:
IPS Francesco Datini