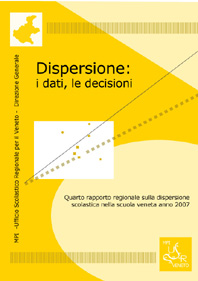 TITLE OF THE PUBLICATION
:
Dispersione: i dati, le decisioni
Quarto rapporto regionale sulla dispersione scolastica nella scuola veneta anno 2007
SURNAME AND NAME OF AUTHOR(S)
:
Michela Busatto, Grazia Calcherutti, Giovanna Ceiner, Giovanni Chioetto, Luigi Clama, Laura Donà, Laura Grigolato, Emanuele Iacolino, Maria Grazia Melegari, Ugo Milardi, Gianna Miola, Marina Nostran, Stefano Piazza, Annamaria Pretto, Renza Ribul Alfier
PLACE AND DATE OF PUBLICATION
:
Italia, ottobre 2007
TYPE OF PUBLICATION
:
Volume
LANGUAGE/S OF PUBLICATION
:
Italiano
LANGUAGE OF REVIEW
:
Italian
DESCRIPTION OF CONTENTS
:
Lo scostamento tra il numero degli studenti iscritti e quelli scrutinati nei diversi indirizzi di studio e per i diversi anni di scolarità, già è di per sé rilevante in quanto registra interruzioni, formalizzate e non, e abbandoni che preoccupano rispetto all'obiettivo previsto dalla Legge 53/03 mirato a far conseguire a tutti il diploma o la qualifica entro il diciottesimo anno di età.
Inoltre, il numero crescente dei non ammessi alla classe successiva e il numero di quanti registrano debiti nelle discipline fanno riflettere circa la necessità da parte delle Istituzioni Scolastiche di progettare le proprie attività in termini incentivanti l'apprendimento.

Il quarto monitoraggio della situazione scolastica in Veneto è assai puntuale e degno di riflessione per i docenti, per i Dirigenti scolastici e per chi si occupa, in vario modo e sotto diversi profili, di istruzione e formazione.
COMMENTS ON THIS PUBLICATION
:
Quarto rapporto regionale sulla dispersione scolastica a cura dell'USRV
NAME OF COMPILER
:
Camilla Tamiozzo
NAME OF INSTITUTION
:
USRV
ROLE
:
Collaboratore esterno