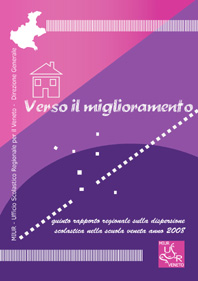 TITLE OF THE PUBLICATION
:
Towards improvement. Fifth regional report on early school leaving
SURNAME AND NAME OF AUTHOR(S)
:
Grazia Calcherutti, Giovanni Chioetto, Bruna Codogno,, Nadia Dallago, Laura Donà, Gianna Miola, Antonia Moretti, Marina Nostran, Anna Maria Pastorelli, Annamaria Pretto, Valeria Sambo, Alessandro Trevisan, Franco Vecchiato, Renzo Paolo Vedova
PLACE AND DATE OF PUBLICATION
:
Italy, October 2008
TYPE OF PUBLICATION
:
Volume
LANGUAGE/S OF PUBLICATION
:
Italian
LANGUAGE OF REVIEW
:
English
DESCRIPTION OF CONTENTS
:
Several data presented in this fifth report on early school leaving match with the past actions aimed at preventing early school leaving; other information deal with the new regulations introduced in the year 2007-08 demonstrating the real effort made by many Veneto schools in achieving the objectives.
The fifth monitoring on the situation in Veneto schools is aimed at providing suggestions to teachers, school managers and the educational stff involved in the education and training.
COMMENTS ON THIS PUBLICATION
:
Fifth regional report on early school leaving by USRV
NAME OF COMPILER
:
Camilla Tamiozzo
NAME OF INSTITUTION
:
USRV
ROLE
:
External consultant