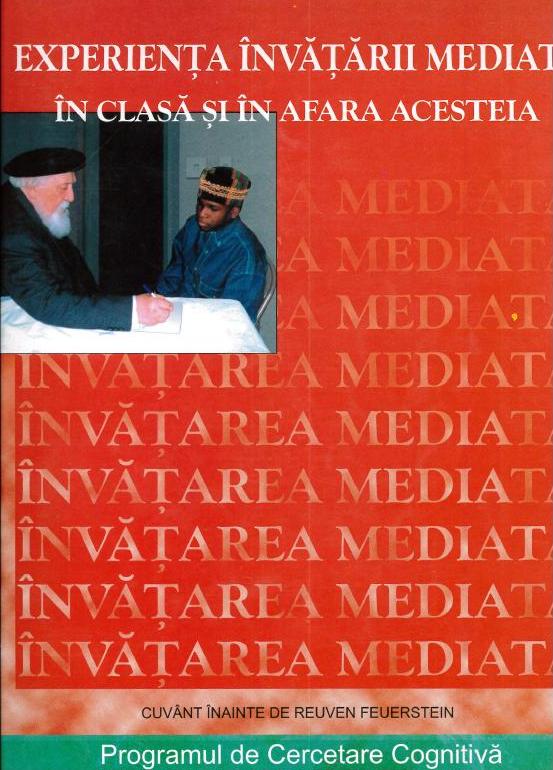 TITLE OF THE PUBLICATION
:
Experiența învățării mediate în clasă și în afara acesteia
SURNAME AND NAME OF AUTHOR(S)
:
Coord. Mandia Mentis
PUBLISHER
:
ASCR, Asociația de Științe Cognitive din România (ISBN 973-85876-0-3)
PLACE AND DATE OF PUBLICATION
:
România, 2009
TYPE OF PUBLICATION
:
Carte, Manual
LANGUAGE/S OF PUBLICATION
:
Română
LANGUAGE OF REVIEW
:
Romanian
DESCRIPTION OF CONTENTS
:
Această publicație poate transforma persoana mediocră sau dezinteresată într-una doritoare să învețe. Această carte inovatoare se adresează tuturor educatorilor din viața unui copil: părinți, tutori, învățători, consilieri, profesori, asistenți sociali.
Este un gid pentru omul de rând, care arată cum poate fi pusă în practică teoria învățării mediate, propusă de profesorul Reuven Feuerstein. Prin intermediul acestei teorii, profesorul a demonstrat că inteligența este modofocabilă, că oamenii se pot schimba în urma unor "interacțiuni favorizante".
Aceste interacțiuni, denumite experiențe de învățare mediată, survin atunci când un adult interesat lucrează individual cu un copil pentru a pune bazele învățării. Experiența învățării mediate în clasă și în afara acesteia explică modul în care respectiva tehnică poate ameliora controlul impulsivității, capacitatea de a face comparații, orientarea în timp și spațiu, înțelegerea cauză-efect, precum și alte procese cognitive superioare.

COMMENTS ON THIS PUBLICATION
:
Strategiile menționate – și multe altele – însoțesc un text accesibil, numeroase pagini de lucru, scale de evaluare și studii de caz. Luate împreună ele conturează formula sigură a succesului atăt pentru dumneavostră, cât și pentru copilul cu care lucrați.
WHERE TO FIND IT
:
Colecția manuale, Programul de Cercetare Cognitivă, Catedra de Educație Specială, Universitatea din Witwatersrand, profesor Mervyn Skuy
NAME OF COMPILER
:
Andreea Cleminte
NAME OF INSTITUTION
:
Fundatia EuroEd