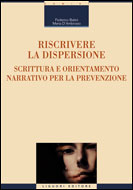 TITLE OF THE PUBLICATION
:
Riscrivere la dispersione
Scrittura e orientamento narrativo per la prevenzione

SURNAME AND NAME OF AUTHOR(S)
:
Federico Batini, Maria D'Ambrosio
PLACE AND DATE OF PUBLICATION
:
Napoli 2009
TYPE OF PUBLICATION
:
Libro
LANGUAGE/S OF PUBLICATION
:
italiano
LANGUAGE OF REVIEW
:
Italian
DESCRIPTION OF CONTENTS
:
Questo volume parla del disagio e della dispersione nei contesti scolastici (e non solo). Ne parla, soprattutto, attraverso la lente di un progetto realizzato dall´associazione Pratika per sperimentare una particolare modalità di intervento, messa in campo grazie alla feconda collaborazione dell´associazione con il Prof. Andrea Smorti, uno dei più importanti studiosi del pensiero narrativo. Il volume prende il titolo dal progetto, che, a sua volta, prende il nome dal metodo sperimentato, metodo che incrocia ed integra all´orientamento narrativo, la teoria di Pennebaker. Lo studioso ha dimostrato l´efficacia dell´azione di riscrittura di un evento doloroso, di un problema, di un lutto, di una difficoltà difficile da sciogliere. L´idea alla base di questo progetto è l´applicazione dello stesso metodo, e del metodo narrativo, alla prevenzione della dispersione e del disagio.
COMMENTS ON THIS PUBLICATION
:
Attraverso il racconto di una ricerca-azione si dà voce ad un´esperienza che recupera la matrice creativa della scrittura per disegnare un viaggio pedagogico in cui riannodare e mettere insieme fili diversi per tessere una nuova trama e dare voce a una nuova storia così da costruire percorsi di istruzione e formazione sempre più inclusivi e capaci di favorire la crescita e l´autonomia.
WHERE TO FIND IT
:
sito web della casa editrice Liguori, sito google book e simili
NAME OF COMPILER
:
Mauro Di Grazia
NAME OF INSTITUTION
:
CIPAT
ROLE
:
coordinatore progetto