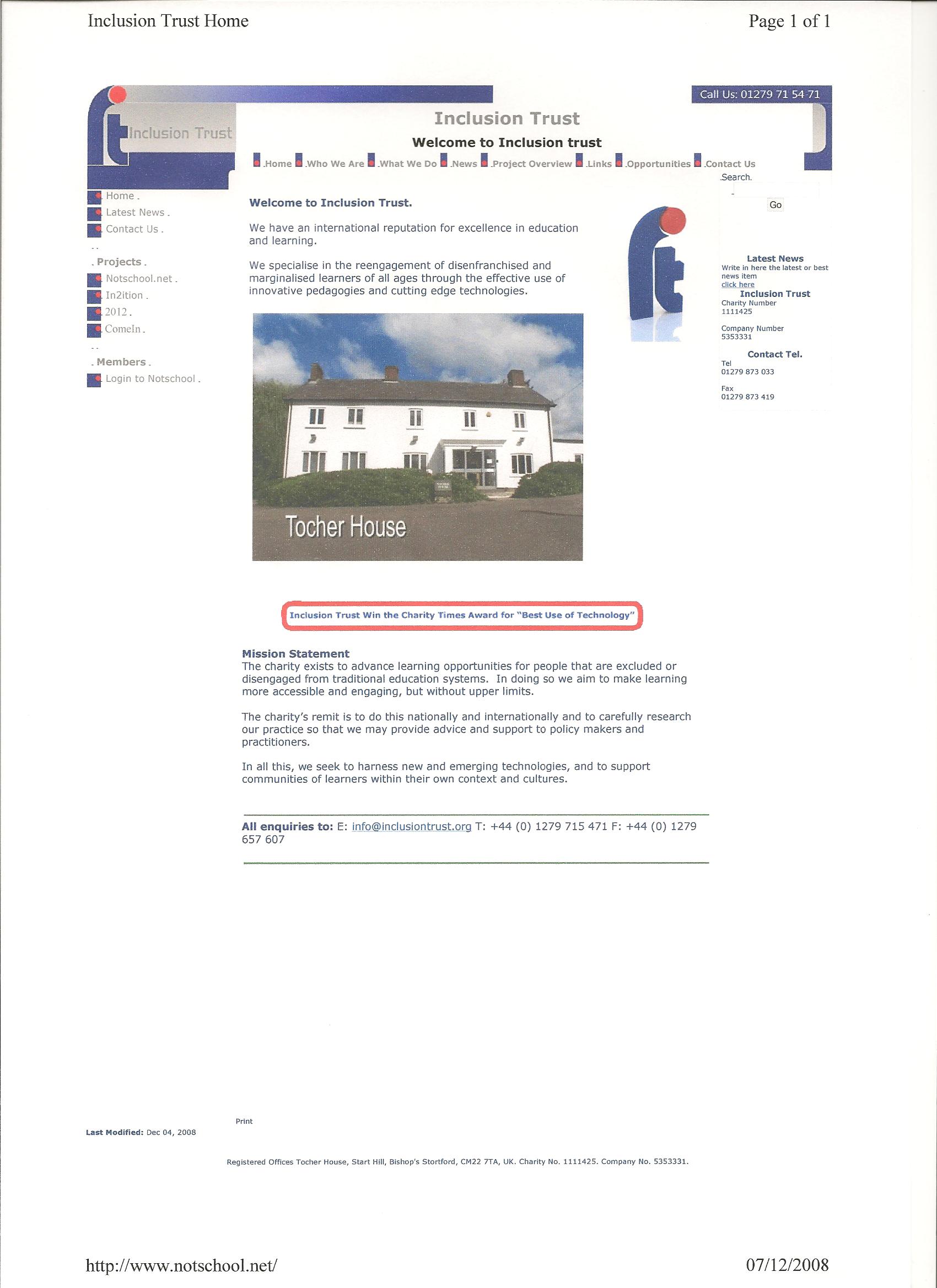 TITLE OF THE PUBLICATION
:
Inclusion Trust
SURNAME AND NAME OF AUTHOR(S)
:
Notschool.net
TYPE OF PUBLICATION
:
Web site
LANGUAGE/S OF PUBLICATION
:
English
LANGUAGE OF REVIEW
:
English
DESCRIPTION OF CONTENTS
:
Notschool.net is a national, Internet based 'Virtual Online Community' offering an alternative to traditional education for young people who, for a variety of reasons, can no longer cope with school or with complementary provisions such as home tutoring or specialist units.

Notschool.net is a last resort for young people who are disengaged from classroom learning because of illness, pregnancy, bullying, phobia, travelling, reluctance to learn, disaffection, exclusion, or statemented.
COMMENTS ON THIS PUBLICATION
:
This is a very useful web site and a very useful alternative to 'normal' school.

Inclusion Trust has been running programmes for disaffected teenagers within the UK for the past 7 years, supported by DCSF. It has a considerable reputation, is cited in numerous government reports, is an OECD best practice case study and now runs across a number of European countries (Ireland, Holland and Sweden) as well as consulting to Australian, New Zealand and US state and national organisations working with disaffected youth.

Inclusion Trust has a model that has worked in re-engaging the 4,000+ UK young people it has dealt with to date back into learning; 98% of young people placed on its programmes achieve formal accreditation recognised by QCA; 67& of the cohort leaving in June 2007 went on to attend further education, hence its interest to EU. Currently Inclusion Trust is working with Italy, Cyprus, Greece, Bulgaria, Finland and Austria on a number of EU funded framework 6 and 7 initiatives related to disaffected young people.



NAME OF COMPILER
:
Roger Murfin
NAME OF INSTITUTION
:
Wilsthorpe Business & Enterprise College