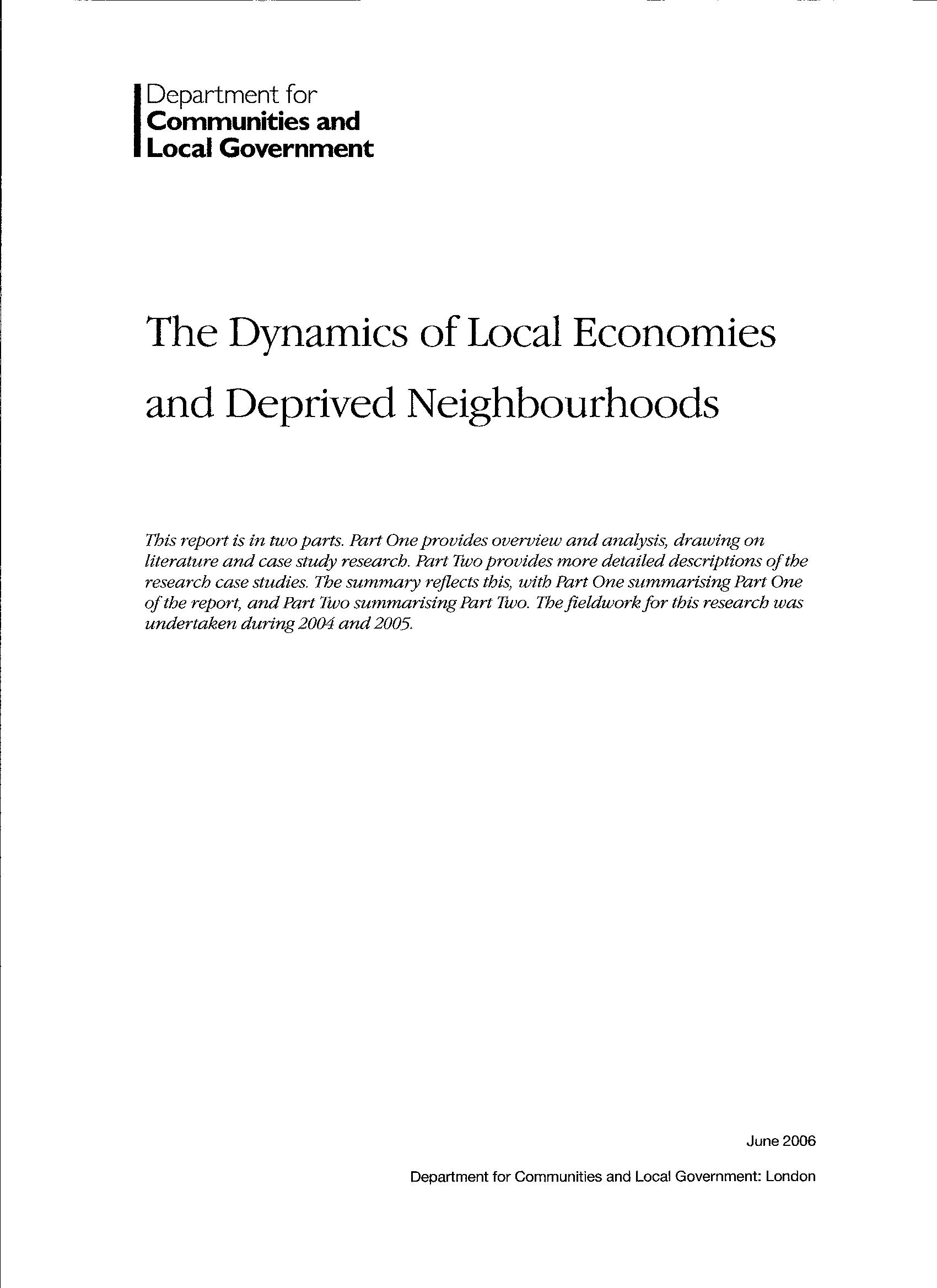 TITLE OF THE PUBLICATION
:
The Dynamics of Local Economies and Deprived Neighbourhoods
SURNAME AND NAME OF AUTHOR(S)
:
Professor David North and Professor Stephen Syrett, Centre for Enterprise and Economic Development and Research, Middlesex University
PUBLISHER
:
Department for Communities and Local Government
PLACE AND DATE OF PUBLICATION
:
United Kingdom 2006
TYPE OF PUBLICATION
:
Research Document
LANGUAGE/S OF PUBLICATION
:
English
LANGUAGE OF REVIEW
:
English
DESCRIPTION OF CONTENTS
:
This is a very comprehensive review / research document aimed at providing greater comprehension of the dynamics of local economies within which deprived neighbourhoods are located, in order to identify the implications and lessons for policy development within the context of the neighbourhood renewal agenda.

The document is divided into two parts, part one provides overview and analysis, drawing on literature and case study research and part two provides detailed descriptions of five research case studies in Sunderland, Oldham, Mansfield, Brighton and Hove, and Newham.
COMMENTS ON THIS PUBLICATION
:
This is a very comprehensive and extensive research study, but not for the faint hearted as the full document consists of 272 pages.

The document links with the project in that it confirms one of the fundamental characteristics of the deprived local economies is the relatively low level of education and skills of the workforce and within deprived wards, there can be over 50% of the population having no qualifications.
WHERE TO FIND IT
:
www.communities.gov.uk and enter 'The Dynamics of Local Economies and Deprived Neighbourhoods' in the site search engine
NAME OF COMPILER
:
Roger Murfin
NAME OF INSTITUTION
:
Wilsthorpe Business & Enterprise College