Lifelong Learning Project - School Inclusion - Preventing Early School Leaving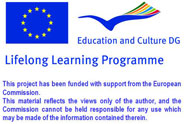 Database of Publications

TITLE OF THE PUBLICATION
:
School Matters - Teenage Dropouts - NEETS - June 2008
SURNAME AND NAME OF AUTHOR(S)
:
Teachers.tv
PLACE AND DATE OF PUBLICATION
:
Published 24 June 2008
TYPE OF PUBLICATION
:
Video - 30 minutes long
LANGUAGE/S OF PUBLICATION
:
English
LANGUAGE OF REVIEW
:
English
DESCRIPTION OF CONTENTS
:
The programme synopsis says 'Why do young people end up as NEET - Not in Education, Employment or Training? And what can be done to reduce their number, estimated at 200,000 (in the UK) in 2008?

Three young NEETS, who all left school at 16, talk about their experiences of moving between college courses and short term employment and about whether they have a direction in life. The video then goes on to show an example of a school in London which has developed at successful strategy to help with the problem.
COMMENTS ON THIS PUBLICATION
:
A very useful vidoe, showing the views and experiences of 3 young people who are NEET and then showing the actions taken by professionals to deal with the problem.

Actions taken include an early intervention programme developed by Quintin Kynaston School in north west London to prevent Year 10 and 11 girls from becoming disengaged and dropping out.


WHERE TO FIND IT
:
www.teachers.tv/video/27607
NAME OF COMPILER
:
Roger Murfin
NAME OF INSTITUTION
:
Wilsthorpe Business & Enerprise College

4 mars 2013
Lancement du Module 5 "Soutien externe et coopération"
Au cours du mois de mars 2013, les partenaires forment les enseignants impliqués dans le projet au Module 5 "Soutien externe et coopération". Le module examine les ressources et soutiens externes pour les enseignants et élèves pour les aider à prévenir le décrochage scolaire.

School Inclusion - Copyright 2008 - Ce projet a bénéficié du soutien financié de la Commission européenne



Matériel photographique : ©
Yuri Arcurs
|
Dreamstime.com