Lifelong Learning Project - School Inclusion - Preventing Early School Leaving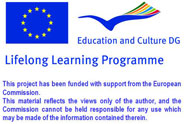 Database of Publications

TITLE OF THE PUBLICATION
:
Learning to teach in practice: Innovation Processes And Practices Of Secondary Education Training
SURNAME AND NAME OF AUTHOR(S)
:
Angel I. Pérez Gómez (Coord.)
PLACE AND DATE OF PUBLICATION
:
VALENCIA 2010
TYPE OF PUBLICATION
:
BOOK
LANGUAGE/S OF PUBLICATION
:
SPANISH
LANGUAGE OF REVIEW
:
English
DESCRIPTION OF CONTENTS
:
Strategies and good practices that show examples and methodologies for the teacher's training courses. Interesting new approach to introduce innovation on this important proves. Also some good practices about how to approach to early leaving students.
COMMENTS ON THIS PUBLICATION
:
Very good publication explaining new aproaches to improve the motivation of students by chanching methodologies on the teachers training pocesses.
NAME OF COMPILER
:
Enric Ortega
NAME OF INSTITUTION
:
Florida Centre de Formacio

4 mars 2013
Lancement du Module 5 "Soutien externe et coopération"
Au cours du mois de mars 2013, les partenaires forment les enseignants impliqués dans le projet au Module 5 "Soutien externe et coopération". Le module examine les ressources et soutiens externes pour les enseignants et élèves pour les aider à prévenir le décrochage scolaire.

School Inclusion - Copyright 2008 - Ce projet a bénéficié du soutien financié de la Commission européenne



Matériel photographique : ©
Yuri Arcurs
|
Dreamstime.com