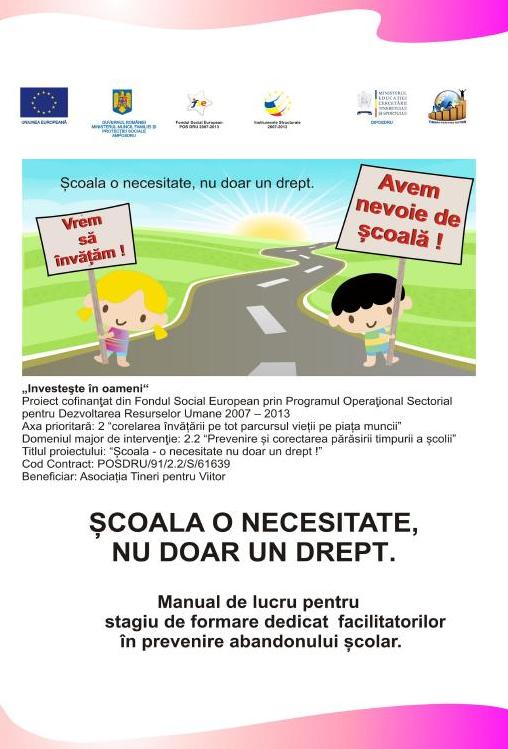 TITLE OF THE PUBLICATION
:
Handbook for School Dropout Prevention Training Programme for Facilitators
SURNAME AND NAME OF AUTHOR(S)
:
Daniel Grebeldinger – specialist in social inclusion and intercultural education
Georgia Deaconu – specialist in non-formal education

PUBLISHER
:
Work published during the project "School – a necessity not and just a right" (Ro. Școala o necesitate, nu doar un drept) co-funded by the European Social Fund through the Sectoral Operational Programme for Human Resources 2007-2013.
PLACE AND DATE OF PUBLICATION
:
Bucharest, 2011
TYPE OF PUBLICATION
:
Handbook
LANGUAGE/S OF PUBLICATION
:
Romanian
LANGUAGE OF REVIEW
:
English
DESCRIPTION OF CONTENTS
:
The handbook was published during the project "School – a necessity, not just a right", reference number POSDRU/91/2.2/61639, funded by the European Social Fund through the Sectoral Operational Programme for Human Resources 2007-2013 carried out between 01.10.2012 and 30.09.2012 by the association "Tineri pentru viitor" (Eng. Youth for the Future)

The project aims at supporting long term social integration of the youth at risk (preschoolers and students) of school dropping out and preventing them from quitting school by using an appropriate framework for the implementation of innovative educational specific solutions doubled by guidance and counseling.

The handbook is addressed to education professionals, mainly to teachers, and describes the course and method used for their training as facilitators in the field of school dropout prevention. By the end of the course will be able to:
- get a common understanding of what school drop out means and of the categories at risk;
- be acquainted with non-formal educational means to be used in order to prevent school dropout;
- better know how to mediate a conflict.
Contents:
1. Agenda for the training course for facilitators in school dropping out prevention.
2. School Dropout: Concept Definition; Causes (economical, sociocultural, religious, psychological, pedagogical); Dropout Effects; Activities Meant to Prevent School Dropout (educational and extracurricular activities, social action; specialists' training).
3. Participants – who can become a facilitator, roles and responsibilities
4. Course Planning
5. Teaching Methods: lectures, visual methods, discussions, case study, critical situations, role plays, simulation, brainstorming, nominal group technique
6. Communication
7. Assessment of the Instruction Process

COMMENTS ON THIS PUBLICATION
:
The handbook presents the course structure and method.The course has been designed to offer a stimulating learning environment by means of various methods with each session. Also, it is based on collaborative and group work which activates each participant's knowledge and skills. The methods used allow a better understating of the concepts specific to school dropout prevention and help identify each participant's personal contribution within the newly created network of specialists.

The handbook has been selected due to the learning process it approaches:
- Integration of a wide range of methods which have facilitated information analysis, understanding and updating.
- Use of each participant's experience, knowledge and skills by striking a balance between individual and group work;
- Creating and maintain a stimulating atmosphere favorable to the exchange of ideas;
- Use of elements of novelty and surprise in order to stimulate participants' curiosity and interest.

NAME OF COMPILER
:
Andreea Cleminte
NAME OF INSTITUTION
:
Fundatia EuroEd