Lifelong Learning Project - School Inclusion - Preventing Early School Leaving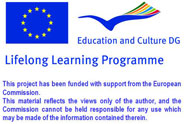 Database of Publications

TITLE OF THE PUBLICATION
:
Tránsito a la ESO,
¿continuidad o ruptura?
SURNAME AND NAME OF AUTHOR(S)
:
Héctor a. Monarca
José rincón gallego
PUBLISHER
:
28 CUADERNOS DE PEDAGOGÍA. Nº 401
PLACE AND DATE OF PUBLICATION
:
MAYO 2010
TYPE OF PUBLICATION
:
Revista Educativa
LANGUAGE/S OF PUBLICATION
:
Español
LANGUAGE OF REVIEW
:
Spanish
DESCRIPTION OF CONTENTS
:
Las bajas calificaciones y alto porcentaje de suspendidos es muy común entre los estudiantes del primer año de la Escuela Secundaria.
COMMENTS ON THIS PUBLICATION
:
El artículo habla sobre un proyecto de investigación que tiene como objetivo discontinuidades en análisis que aparecen en la transición de primaria a secundaria en relación a la clase de metodología, relaciones con los maestros o el tipo de evaluación. La solución sería el desarrollo de un currículo integrado centrado en un enfoque de enseñanza más global con menos asignaturas, los profesores y el conocimiento fragmentario. Un plan de estudios cuyo objetivo es desarrollar un pensamiento más crítico y la capacidad de conectar los nuevos conocimientos a la vida cotidiana
NAME OF COMPILER
:
Alessia Pinna
NAME OF INSTITUTION
:
Florida
ROLE
:
Departamento de Relacines Internacionales

4 mars 2013
Lancement du Module 5 "Soutien externe et coopération"
Au cours du mois de mars 2013, les partenaires forment les enseignants impliqués dans le projet au Module 5 "Soutien externe et coopération". Le module examine les ressources et soutiens externes pour les enseignants et élèves pour les aider à prévenir le décrochage scolaire.

School Inclusion - Copyright 2008 - Ce projet a bénéficié du soutien financié de la Commission européenne



Matériel photographique : ©
Yuri Arcurs
|
Dreamstime.com