Lifelong Learning Project - School Inclusion - Preventing Early School Leaving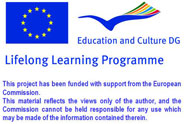 Database of Publications

TITLE OF THE PUBLICATION
:
Intercultural Education. New looks, skills, paths.
SURNAME AND NAME OF AUTHOR(S)
:
Demetrio, D., Favaro, G
PUBLISHER
:
Franco Angeli,
PLACE AND DATE OF PUBLICATION
:
Milano, 2004
TYPE OF PUBLICATION
:
Book
LANGUAGE/S OF PUBLICATION
:
Italian
LANGUAGE OF REVIEW
:
English
DESCRIPTION OF CONTENTS
:
The book traces the history of an idea and an approach to cultural differences found in Europe and outside Europe and practiced in Italy for about a decade. The book aims to show that in addition to cultural differences to enhance and promote the search for what is above us closer - the feelings, emotions and ways of life to represent them in the stories and knowledge - that the encounter with the other finds its reasons and its concrete experiences.
COMMENTS ON THIS PUBLICATION
:
The pedagogy explores the complex identity of modern man, and this is the attitude intercultural, where time is experienced as simultaneous experiences interacting in a production interior and random, in a conception of time that is different from the canonical cumulative, irreversible and purposeful, in an opposite attitude monocultural. Space is at a given psychological autonomy, compared to a single point of contact and unchangeable. The identity is an ongoing process where continuity and discontinuity are alternating and open to change.
NAME OF COMPILER
:
Marco Manzuoli
NAME OF INSTITUTION
:
IPS Datini

4 mars 2013
Lancement du Module 5 "Soutien externe et coopération"
Au cours du mois de mars 2013, les partenaires forment les enseignants impliqués dans le projet au Module 5 "Soutien externe et coopération". Le module examine les ressources et soutiens externes pour les enseignants et élèves pour les aider à prévenir le décrochage scolaire.

School Inclusion - Copyright 2008 - Ce projet a bénéficié du soutien financié de la Commission européenne



Matériel photographique : ©
Yuri Arcurs
|
Dreamstime.com