Lifelong Learning Project - School Inclusion - Preventing Early School Leaving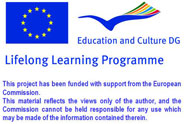 Database of Publications

TITLE OF THE PUBLICATION
:
No interest to go to school?

SURNAME AND NAME OF AUTHOR(S)
:
Gentner, C. & Mertens, M.
PUBLISHER
:
Waxmann Verlag
PLACE AND DATE OF PUBLICATION
:
Münster, 2006
TYPE OF PUBLICATION
:
Compilation
LANGUAGE/S OF PUBLICATION
:
German
LANGUAGE OF REVIEW
:
English
DESCRIPTION OF CONTENTS
:
• Articles about the phenomenon school tiredness, school refusal and school absenteeism from the perspective of research and practice.
• Project presentation.
• One chapter (by Ricking et al.) provides a manual of prevention of school absenteeism. Furthermore, it describes quality standards in schools for management and treatment of attainment and absences of students.

COMMENTS ON THIS PUBLICATION
:
• In the area of school absenteeism well-known authors describe different aspects of school refusal.
• Chapter by Ricking et al. covers all relevant areas of school life.
• Can be used by schools to analyse the status quo and to develop concepts.

NAME OF COMPILER
:
Dr. Gabriele Dlugosch
NAME OF INSTITUTION
:
Zentrum für empirische pädagogische Forschung (zepf)
ROLE
:
Head of the Competence Centre Health and Wellbeing

4 mars 2013
Lancement du Module 5 "Soutien externe et coopération"
Au cours du mois de mars 2013, les partenaires forment les enseignants impliqués dans le projet au Module 5 "Soutien externe et coopération". Le module examine les ressources et soutiens externes pour les enseignants et élèves pour les aider à prévenir le décrochage scolaire.

School Inclusion - Copyright 2008 - Ce projet a bénéficié du soutien financié de la Commission européenne



Matériel photographique : ©
Yuri Arcurs
|
Dreamstime.com