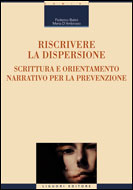 TITLE OF THE PUBLICATION
:
Rewrite the dispersion
Writing and narrative approach to the prevention
SURNAME AND NAME OF AUTHOR(S)
:
Federico Batini, Maria D'Ambrosio
PLACE AND DATE OF PUBLICATION
:
Napoli, 2009
TYPE OF PUBLICATION
:
book
LANGUAGE/S OF PUBLICATION
:
Italian
LANGUAGE OF REVIEW
:
English
DESCRIPTION OF CONTENTS
:
This book deal with the discomfort and disturbance in school contexts (and not only). He talks about it, especially through the lens of a project carried out by Pratika to experience a particular mode of intervention, fielded thanks to fruitful collaboration with Prof. Andrea Smorti association, one of the most important scholars of narrative thinking. The book takes its title from the project, which, in turn, was named after the proven method, a method that crosses and integrates narrative orientation, the theory of Pennebaker. The student has demonstrated the effectiveness of rewriting a painful event of a problem, a death, a problem difficult to solve. The idea behind this project is the application of the same method, and the narrative method, the prevention of leakage and discomfort.
COMMENTS ON THIS PUBLICATION
:
Through the story of a research-action we can know an experience that gets the creative matrix of writing to draw an educational trip in which resume and put together different threads to weave a new story and give voice to a new story in order to build vocational education and training more inclusive and to foster the growth and independence.
WHERE TO FIND IT
:
www.liguori.it
NAME OF COMPILER
:
Marussia Pastacaldi
NAME OF INSTITUTION
:
CIPAT