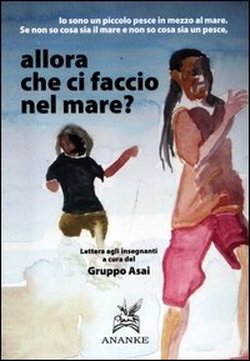 TITLE OF THE PUBLICATION
:
So what am I doing in the sea?
SURNAME AND NAME OF AUTHOR(S)
:
ASAI Group (Associazione di Animazione Interculturale)
PLACE AND DATE OF PUBLICATION
:
Turin 2012
TYPE OF PUBLICATION
:
Book
LANGUAGE/S OF PUBLICATION
:
Italian
LANGUAGE OF REVIEW
:
English
DESCRIPTION OF CONTENTS
:
"I am a small fish in the sea. If you do not know what the sea and do not know what a fish, THEN WE DO IN THE SEA? "The title of the work, a quote about the meaning of culture, describes in symbolic language-allusive the condition of the boys in school today , their needs and aspirations.
The book is presented as a long open letter to the institutions-the model Letter to a Teacher written in 60' by the school of Barbiana and the priest Don Milani - to tell a school of the future in which to learn really. The book stems from three years of meetings weekly at the ASAI association of Turin, which is based in S. Salvario and offers a testament to the practical work of students and teachers who talked about the school's situation, needs, changes and violation of basic rights. Thousands of students from all over Italy, from Gela in Turin, reflect, discuss and ask that staying in school, learning really can become a reality for everyone and for everyone.
COMMENTS ON THIS PUBLICATION
:
Young men and women of today, who are turning to their teachers, inviting them to listen, as a way to contribute to the necessary profound change in the current school. The focus of the book is given right from the point of view that each teacher involved in the fight against dispersion can not ignore. Says Domenico Chiesa (CIDI), one of the curators, the words "intended to be a solicitation to the public to highlight some deformation of the teacher's work. The children recognize the severity, they know that the teacher does not make them work is not a true master ... That teachers, children say it on every page, is a craft. What is human relations. "
WHERE TO FIND IT
:
website of publisher
NAME OF COMPILER
:
Mauro Di Grazia
NAME OF INSTITUTION
:
Cipat
ROLE
:
Project coordinator