Lifelong Learning Project - School Inclusion - Preventing Early School Leaving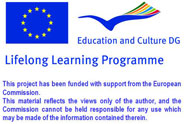 Training Initiatives

TITLE OF TRAINING INITIATIVES
:
La Peer education per la promozione della salute rispetto ai comportamenti temerari ed onnipotenti in adolescenza
NAME OF ORGANISER
:
USL 4 PRATO Unità funzionale Educazione e promozione della salute
LANGUAGE OF THE REVIEW
:
Italian
COUNTRY WHERE IT TOOK PLACE
:
Italy
REVIEW OF THE TRAINING INITIATIVE
:
Contesto di riferimento
Nel quadro del disagio adolescenziale, fra le cause della dispersione e dell'abbandono vi sono quelle socio-affettive e relazionali. Per questo la peer education rappresenta un metodo educativo che apre molte possibilità.
Il progetto rende particolarmente importante la diffusione di informazioni per aiutare lo sviluppo di una sessualità serena e sicura tra gli adolescenti. La cosa interessante è che, per il 93% degli studenti delle scuole coinvolte, la scuola è il luogo idoneo a fornire una formazione per la sfera affettiva della persona. Saranno formati oltre ai docenti , i trentadue studenti delle quattro scuole coinvolte, che, dopo una serie di incontri di formazione, diventeranno dei tutor per i loro compagni di classe.
Destinatari : docenti e studenti di quattro scuole superiori di Prato l'Istituto professionale Datini, l'Istituto tecnico Gramsci/Keynes, il Liceo scientifico Livi e l'Istituto commerciale Dagomari.
Durata : a.s. 2010-2011

NAME OF THE REVIEWING ORGANISATION
:
Istituto Professionale di Stato FRANCESCO DATINI PRATO

4 mars 2013
Lancement du Module 5 "Soutien externe et coopération"
Au cours du mois de mars 2013, les partenaires forment les enseignants impliqués dans le projet au Module 5 "Soutien externe et coopération". Le module examine les ressources et soutiens externes pour les enseignants et élèves pour les aider à prévenir le décrochage scolaire.

School Inclusion - Copyright 2008 - Ce projet a bénéficié du soutien financié de la Commission européenne



Matériel photographique : ©
Yuri Arcurs
|
Dreamstime.com