Lifelong Learning Project - School Inclusion - Preventing Early School Leaving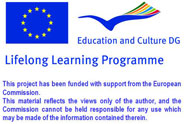 Training Initiatives

TITLE OF TRAINING INITIATIVES
:
Optimizing the Individual Learning Plan (ILP)
LANGUAGE OF THE REVIEW
:
English
COUNTRY WHERE IT TOOK PLACE
:
Belgium
REVIEW OF THE TRAINING INITIATIVE
:
Aspects to consider:

- General framework / project in which the training initiative took place

Measures to fight school dropping out aimed at ensuring that all the pupils have equal opportunity for social emancipation within the Walloon-Brussels federation.

- Reasons why the training initiative is relevant and selected

Pedagogical measure for the support of the pupils in trouble by the team
- Skills acquired by the teachers involved

• To appropriate the philosophy of the measure linked to the ILP, with reference to the legislation

• To analyze the usefulness of ILP for the pupil's learning

• To identify the elements to be gathered for the construction of a ILP, especially in matter of observation

• To discover some techniques of observation

• To learn to define objectives according to the observations realized

• To favor the pupil's participation and the partnership with his parents

- Impact on the professional development

Tools for the setting up of a differentiated pedagogy. However the educative staff members are no trained to it.
- Final comments of the reviewer

2-days-training for the teachers and the PMS agents.
Development of the concept of individualization through exchanges between the participants and presentation of the legal framework.

NAME OF THE REVIEWING ORGANISATION
:
INFOREF

4 mars 2013
Lancement du Module 5 "Soutien externe et coopération"
Au cours du mois de mars 2013, les partenaires forment les enseignants impliqués dans le projet au Module 5 "Soutien externe et coopération". Le module examine les ressources et soutiens externes pour les enseignants et élèves pour les aider à prévenir le décrochage scolaire.

School Inclusion - Copyright 2008 - Ce projet a bénéficié du soutien financié de la Commission européenne



Matériel photographique : ©
Yuri Arcurs
|
Dreamstime.com