Lifelong Learning Project - School Inclusion - Preventing Early School Leaving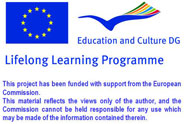 Training Initiatives

TITLE OF TRAINING INITIATIVES
:
Problem or rude students?
NAME OF ORGANISER
:
UCIPEM and Junior High School "L. Einaudi" (Venice)
LANGUAGE OF THE REVIEW
:
English
COUNTRY WHERE IT TOOK PLACE
:
Italy
REVIEW OF THE TRAINING INITIATIVE
:
UCIPEM centre (health and social services) has organized the course at the junior high school "L. Einaudi" that is located in an ex-industrial area with a high percentage of immigrants and, in general, poor people who hardly live the current crisis. The integration and coexistence are crucial topics as well as the control concerning the rate of people repeating the school year.
The training was divided in three meetings lasting three months and was addressed to both teachers and administrative staff.
The trainers have asked the school staff to implement the behaviour techniques showed during the course and discuss them during the last meeting.
In general, the participants were satisfied with the experience.

NAME OF THE REVIEWING ORGANISATION
:
USRV

4 mars 2013
Lancement du Module 5 "Soutien externe et coopération"
Au cours du mois de mars 2013, les partenaires forment les enseignants impliqués dans le projet au Module 5 "Soutien externe et coopération". Le module examine les ressources et soutiens externes pour les enseignants et élèves pour les aider à prévenir le décrochage scolaire.

School Inclusion - Copyright 2008 - Ce projet a bénéficié du soutien financié de la Commission européenne



Matériel photographique : ©
Yuri Arcurs
|
Dreamstime.com