Lifelong Learning Project - School Inclusion - Preventing Early School Leaving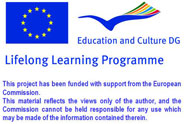 Training Initiatives

TITLE OF TRAINING INITIATIVES
:
Skills certification in the education and training field
NAME OF ORGANISER
:
A.F. La Base di S. Lorenzo
CIPAT
LANGUAGE OF THE REVIEW
:
English
COUNTRY WHERE IT TOOK PLACE
:
Italy
REVIEW OF THE TRAINING INITIATIVE
:
Aspects to consider:
- General framework / project in which the training initiative took place
Training activities have focused on 20 workers in the field of Vocational Education andTraining;the course took place in the period from September to December 2011
- Reasons why the training initiative is relevant and selected
The purpose was to train workers who are able to certify competences in the transition between Vocational Education and Training
- Skills acquired by the teachers involved
Course participants have acquired competences for certification and obtained the qualification in "Skills assessment and certification"
- Impact on the professional development
Workers entered the Tuscan system (enrollment in the Regional register of Certifiers) that requires the presence of a responsible for certification in any training agency
- Final comments of the reviewer
All course participants have acquired the regional qualification.
NAME OF THE REVIEWING ORGANISATION
:
CIPAT

4 mars 2013
Lancement du Module 5 "Soutien externe et coopération"
Au cours du mois de mars 2013, les partenaires forment les enseignants impliqués dans le projet au Module 5 "Soutien externe et coopération". Le module examine les ressources et soutiens externes pour les enseignants et élèves pour les aider à prévenir le décrochage scolaire.

School Inclusion - Copyright 2008 - Ce projet a bénéficié du soutien financié de la Commission européenne



Matériel photographique : ©
Yuri Arcurs
|
Dreamstime.com