Lifelong Learning Project - School Inclusion - Preventing Early School Leaving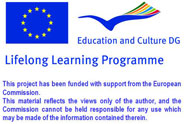 Training Initiatives

TITLE OF TRAINING INITIATIVES
:
"The remediation is everyone's business in the school": Intervision program (observation and reflection on practices) developed in 2011, on the initiative of the "Fondation Roi Baudouin" (King Baudouin Foundation), aimed at secondary schools involved in remediation processes.
http://www.kbs-frb.be/publication.aspx?id=288187&LangType=2060

NAME OF ORGANISER
:
Fondation Roi Baudouin (FRB)
LANGUAGE OF THE REVIEW
:
English
COUNTRY WHERE IT TOOK PLACE
:
Belgium
REVIEW OF THE TRAINING INITIATIVE
:
Aspects to consider:

- General framework / project in which the training initiative took place
Measures against school drop-out and to ensure all students equal opportunity for social emancipation, within the Federation Wallonia-Brussels.

- Reasons why the training initiative is relevant and selected
Exchange of experiences and consultations with a view to an effective remediation (that would reduce school failure and inequalities).

- Skills acquired by the teachers involved
• Typology of practices in their great diversity
• Definition of the constituent elements of an effective remediation
• Development of courses of action

- Impact on the professional development
Tools for the implementation of a differentiated pedagogy, to which education staff is not trained.


- Final comments of the reviewer
Three days of meetings between 48 secondary schools.
The minutes of these days has been published by the FRB ("School remediation in the French Community. What practices to reduce school failure?").

NAME OF THE REVIEWING ORGANISATION
:
INFOREF

4 mars 2013
Lancement du Module 5 "Soutien externe et coopération"
Au cours du mois de mars 2013, les partenaires forment les enseignants impliqués dans le projet au Module 5 "Soutien externe et coopération". Le module examine les ressources et soutiens externes pour les enseignants et élèves pour les aider à prévenir le décrochage scolaire.

School Inclusion - Copyright 2008 - Ce projet a bénéficié du soutien financié de la Commission européenne



Matériel photographique : ©
Yuri Arcurs
|
Dreamstime.com