School Inclusion - Preventing early school leaving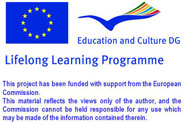 Dissemination
DISSEMINATION REPORT

Partners:
C.I.P.A.T.

Name of the person involved in the event:
Giuseppe Italiano

Date of the event:
18th December 2007

Type of Dissemination event:
National Meeting

Description of Dissemination Event:
Presentation of the School Inclusion Project

Target group:
Secondary school teachers

Number of people reached by event:
10

Held in:
Florence, Italy

Outcomes and Results:
The meeting aimed at getting the teachers to take an interest in the project. As a result six out of eight schools joined the project and took part in the constitution of the regional work group.

Supporting Documents:

All contents © 2019 by Pixel , all rights reserved