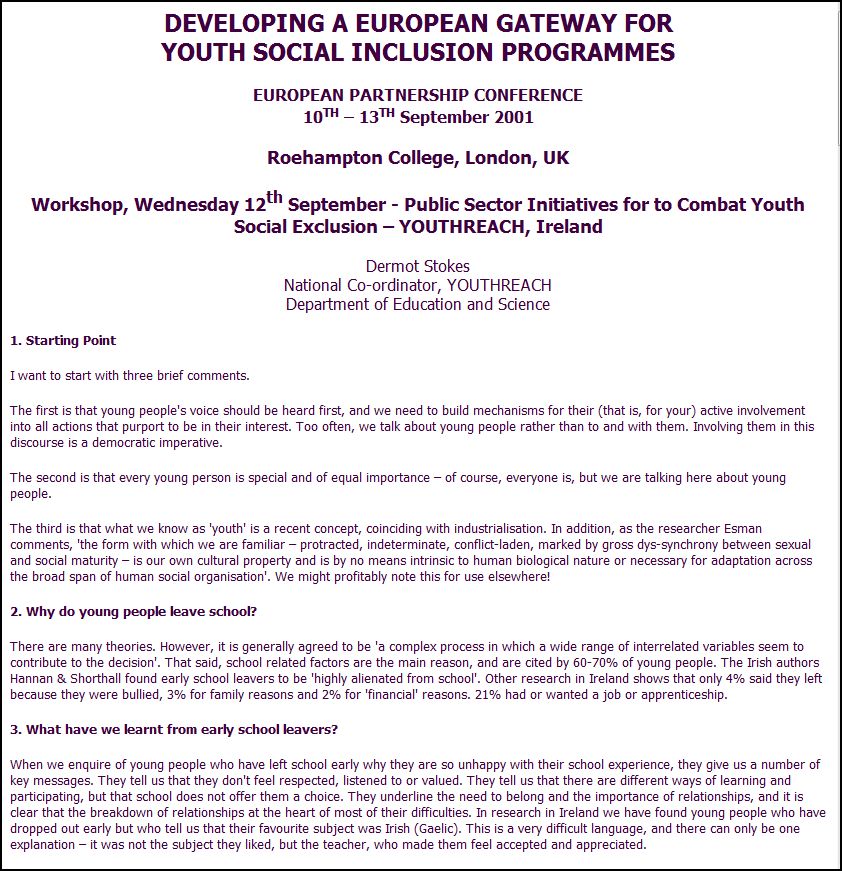 TITOLO DELLA PUBBLICAZIONE
:
Developing A European Gateway For Youth Social Inclusion Programmes
NOME E COGNOME DELL'AUTORE/I
:
Dermot Stokes
LUOGO E DATA DELLA PUBBLICAZIONE
:
Ireland 2001
TIPOLOGIA DELLA PUBBLICAZIONE
:
Conference Paper
LINGUA DELLA PUBBLICAZIONE
:
English
DESCRIZIONE DEI CONTENUTI
:
The paper opens with three brief comments attributing great dignity to young people. It outlines why young people leave school, what we have learnt from them, and what works.
The origin, programme, management, strengths & weaknesses of YOUTHREACH are detailed with some concluding reflection on the issues and the way forward.


COMMENTO SULLA PUBBLICAZIONE
:
Dermot Stokes is the National Co-ordinator, of YOUTHREACH, (Department of Education and Science). He delivered this paper at a European Partnership Conference entitled Developing a European Gateway for Youth Social Inclusion Programmes in Roehampton College, London, UK, in September 2001


AUTORE DELLA RECENSIONE
:
Ann Caulfield
ISTITUZIONE
:
Mayo Education Centre