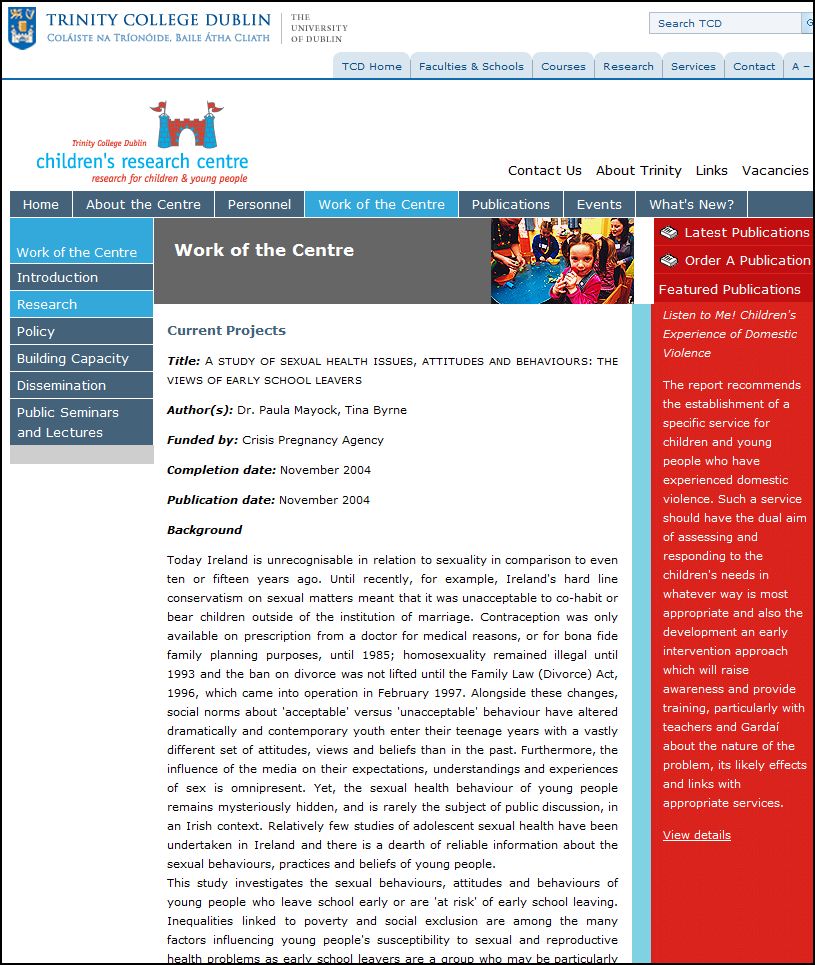 TITOLO DELLA PUBBLICAZIONE
:
A Study of Sexual Health Issues, Attitudes and Behaviours: The Views of Early School Leavers
NOME E COGNOME DELL'AUTORE/I
:
Paula Mayock and Tina Byrne
LUOGO E DATA DELLA PUBBLICAZIONE
:
Ireland 2004
TIPOLOGIA DELLA PUBBLICAZIONE
:
Study - qualitative research
LINGUA DELLA PUBBLICAZIONE
:
English
DESCRIZIONE DEI CONTENUTI
:
A core objective of this study was the systematic investigation of the sexual attitudes, beliefs and behaviours of early school leavers. It also aimed to explore the process and mechanisms whereby young people construct, experience and define their sexuality and sexual practice. The research methodology was qualitative and the data collection methods comprised a mix of individual interviews and focus group discussions.
A total of twelve recruitment sites were used - six Dublin-based and six located in provincial towns and cities Countrywide. Individual interviews were conducted with 41 young people - 23 young women and 18 young men. These were between the ages of 13 and 18 years, and with an average school leaving age of 14.4 years. Eleven of the young people participated in one of three focus group discussions. There was also interaction with parents and services and interventions with responsibility for intervening in the lives of young people who leave school early or are 'at risk' of early school leaving.
The study's findings concentrate on sexual behaviour, safe-sex practices, gender and sexual health, learning about sex and the experience of gay youth. It has uncovered great diversity in young people's romantic and sexual experiences. Their accounts suggest some common experiences but also considerable variation and exceptions. The findings provide important insights that can feed into effective planning and development of appropriate preventative and supportive initiatives.

COMMENTO SULLA PUBBLICAZIONE
:
This is an important research report which provides an insight into how a vulnerable group of young people - early school leavers - deal with their emerging sexuality. Without the advantage of completing post-primary education, it gives an insight into how they deal with the complicated issues of constructing, defining and experiencing sexual practice.
AUTORE DELLA RECENSIONE
:
Ann Caulfield
ISTITUZIONE
:
Mayo Education Centre