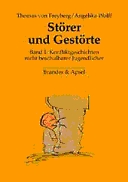 TITOLO DELLA PUBBLICAZIONE
:
Annoying and being annoyed 1. Conflict stories from school refusing juveniles
NOME E COGNOME DELL'AUTORE/I
:
Freyberg, Th. v. & Wolff, A.


LUOGO E DATA DELLA PUBBLICAZIONE
:
Frankfurt, 2005
TIPOLOGIA DELLA PUBBLICAZIONE
:
Specialist publication
LINGUA DELLA PUBBLICAZIONE
:
German
DESCRIZIONE DEI CONTENUTI
:
VOLUME 1
• The problem of school absenteeism is being approached by case studies.
• Cases are analysed from a sociological point of view in order to understand and reconstruct the history of the conflicts from the teenagers. Therefore, professionals from school and youth welfare services were interviewed.
• Psychoanalytical instruments were applied for the diagnosis and psychoanalytical report of the cases.
• An interdisciplinary team of sociologists and psychoanalysts discuss the analysis of the conflicting dynamic of the individual case.

COMMENTO SULLA PUBBLICAZIONE
:
• Carried out were case studies with
- teenagers
- parents
- teachers (from primary school to completed education)
- social workers
• Focus: psychoanalytical point of view and analysis
• Presented is a description of causes and conditions.

AUTORE DELLA RECENSIONE
:
Dr. Gabriele Dlugosch
ISTITUZIONE
:
Zentrum für empirische pädagogische Forschung (zepf)
RUOLO
:
Head of the Competence Centre Health and Wellbeing