Lifelong Learning Project - School Inclusion - Preventing Early School Leaving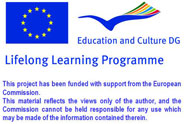 Iniziative di formazione

TITOLO DELL'INIZIATIVA DI FORMAZIONE
:
Skills certification in the education and training field
NOME DELL'ISTITUZIONE ORGANIZZATRICE
:
A.F. La Base di S. Lorenzo
CIPAT
LINGUA DELLA RECENSIONE
:
English
PAESE DOVE SI E' SVOLTA
:
Italy
RECENSIONE DELL'INIZIATIVA DI FORMAZIONE
:
Aspects to consider:
- General framework / project in which the training initiative took place
Training activities have focused on 20 workers in the field of Vocational Education andTraining;the course took place in the period from September to December 2011
- Reasons why the training initiative is relevant and selected
The purpose was to train workers who are able to certify competences in the transition between Vocational Education and Training
- Skills acquired by the teachers involved
Course participants have acquired competences for certification and obtained the qualification in \"Skills assessment and certification\"
- Impact on the professional development
Workers entered the Tuscan system (enrollment in the Regional register of Certifiers) that requires the presence of a responsible for certification in any training agency
- Final comments of the reviewer
All course participants have acquired the regional qualification.
NOME DELL'ISTITUZIONE AUTRICE DELLA RECENSIONE
:
CIPAT

15 November 2012
[email protected] at the Future of Education Conference
The [email protected] projet will be presented at the third edition of the "Future of Education" international conference, held in Florence, Italy, on 13 - 14 June 2013. Over 250 participants from all over the world will attend the conference. The conference participants belong to the sectors of higher education, school education, vocational education and training as well as adult education, therefore representing all of the target groups of the [email protected] project.

School Inclusion - Copyright 2008 - This project has been funded with support from the European Commission


Comunicazione grafica:
Achrom.it
- Programmazione &
Web Marketing
:
Pinzani.it
- Hosting by:
Connectis s.r.l.

Materiale fotografico: ©
Yuri Arcurs
|
Dreamstime.com