Lifelong Learning Project - School Inclusion - Preventing Early School Leaving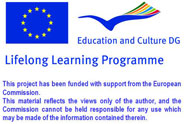 Iniziative di formazione

TITOLO DELL'INIZIATIVA DI FORMAZIONE
:
The words to tell
Cycle of meetings on the communication between parents and adolescent children

NOME DELL'ISTITUZIONE ORGANIZZATRICE
:
IPSAAR SAFFI (vocational school) ASL FIRENZE Società della Salute Tuscany Region
LINGUA DELLA RECENSIONE
:
English
PAESE DOVE SI E' SVOLTA
:
Italy
RECENSIONE DELL'INIZIATIVA DI FORMAZIONE
:
The cycle of Four meetings (spring 2011) has offered you arguments of information and reflection on the dynamics of the rapport between parents and children in adolescent age, with an useful reference to the resources of the territory and the possibilities of support for the scholastic institutions
NOME DELL'ISTITUZIONE AUTRICE DELLA RECENSIONE
:
IPS DATINI

15 November 2012
[email protected] at the Future of Education Conference
The [email protected] projet will be presented at the third edition of the "Future of Education" international conference, held in Florence, Italy, on 13 - 14 June 2013. Over 250 participants from all over the world will attend the conference. The conference participants belong to the sectors of higher education, school education, vocational education and training as well as adult education, therefore representing all of the target groups of the [email protected] project.

School Inclusion - Copyright 2008 - This project has been funded with support from the European Commission


Comunicazione grafica:
Achrom.it
- Programmazione &
Web Marketing
:
Pinzani.it
- Hosting by:
Connectis s.r.l.

Materiale fotografico: ©
Yuri Arcurs
|
Dreamstime.com