Lifelong Learning Project - School Inclusion - Preventing Early School Leaving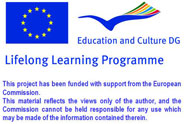 Training Initiatives

TITLE OF TRAINING INITIATIVES
:
Analisi delle competenze in uscita dal biennio dell'obbligo scolastico
NAME OF ORGANISER
:
Università per Stranieri di Siena
CIPAT

LANGUAGE OF THE REVIEW
:
Italian
COUNTRY WHERE IT TOOK PLACE
:
Italy
REVIEW OF THE TRAINING INITIATIVE
:
- Contesto generale di riferimento
Attività di ricerca e formazione destinata a n.30 docenti provenienti da Istituti Professionali aderenti al CIPAT .
Formare I docenti sulle valutazioni delle competenze in uscita dall'Obbligo Scolastico nelle aree: Linguaggi/Matematica/Storico- Sociale/Scientifico-Tecnologico
- Motivazioni per la scelta del'iniziativa come rilevante
- Formare un gruppo di docenti capaci di trasferire le competenze negli Istituti di provenienza verso i colleghi e anche nelle scuole appartenenti alla rete.
- Competenze acquisite dai docent coinvolti
I docenti hanno acquisito competenze in Progettazione e Valutazione di competenze in Obbligo Scolastico
- Impatto sulle professinalità dei docenti
Dal corso sono scaturite iniziative di corsi su docenti di scuole medie superiori nelle varie provincie toscane. In particolare sono stati realizzati corsi a Pontedera da novembre 2011 a marzo 2012 e a Pisa dal 30 novembre al 2 marzo 2012
- Osservazioni finali
I Dirigenti Scolastici delle scuole, I cui insegnanti hanno partecipato al corso, hanno manifestato soddisfazione per l'iniziativa.

NAME OF THE REVIEWING ORGANISATION
:
CIPAT

15 November 2012
[email protected] at the Future of Education Conference
The [email protected] projet will be presented at the third edition of the "Future of Education" international conference, held in Florence, Italy, on 13 - 14 June 2013. Over 250 participants from all over the world will attend the conference. The conference participants belong to the sectors of higher education, school education, vocational education and training as well as adult education, therefore representing all of the target groups of the [email protected] project.

School Inclusion - Copyright 2008 - This project has been funded with support from the European Commission



Webmaster:
Pinzani.it
- Materiale fotografico: ©
Yuri Arcurs
|
Dreamstime.com