Lifelong Learning Project - School Inclusion - Preventing Early School Leaving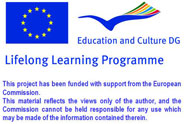 Training Initiatives

TITLE OF TRAINING INITIATIVES
:
"How to support the young people with school dropping out problems or school difficulties?"
NAME OF ORGANISER
:
This institute develops the latest knowledge and researches for continuous training
LANGUAGE OF THE REVIEW
:
English
COUNTRY WHERE IT TOOK PLACE
:
Belgium
REVIEW OF THE TRAINING INITIATIVE
:
Aspects to consider:

- General framework / project in which the training initiative took place

Measures to fight school dropping out aimed at ensuring that all the pupils have equal opportunity for social emancipation

- Reasons why the training initiative is relevant and selected

To provide a framework for reflexion and intervention avenues for the ones who work with demotivated young people or at risk of failing, of school dropping out.

- Skills acquired by the teachers involved

• Sociological context and consideration
• To understand and to react thanks to psychoanalytic tools
• Psychoanalysis and learning
• Emotional regulation in learnings
• Systems analysis and school dropping out
• To understand and to react thanks to cognitive and behavioural tools
• Model for motivation : from theory to practice
• To understand and to react thanks to systemic tools
• To give perspective to motivation approaches
• The feeling of competence

- Impact on the professional development

Tools for the setting up of differentiated pedagogy, but the educational staffs are not trained to them.

- Final comments of the reviewer

4-days-training for teachers and PMS' agents. The activities of this seminar is based on a dynamic mixture of theories, practical applications and case studies in order to establish the training into professional reality and to arouse the confrontation of points of view between the participants

http://www.uclouvain.be/287936.html

NAME OF THE REVIEWING ORGANISATION
:
INFOREF

15 November 2012
[email protected] at the Future of Education Conference
The [email protected] projet will be presented at the third edition of the "Future of Education" international conference, held in Florence, Italy, on 13 - 14 June 2013. Over 250 participants from all over the world will attend the conference. The conference participants belong to the sectors of higher education, school education, vocational education and training as well as adult education, therefore representing all of the target groups of the [email protected] project.

School Inclusion - Copyright 2008 - This project has been funded with support from the European Commission



Webmaster:
Pinzani.it
- Materiale fotografico: ©
Yuri Arcurs
|
Dreamstime.com