Lifelong Learning Project - School Inclusion - Preventing Early School Leaving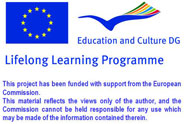 Training Initiatives

TITLE OF TRAINING INITIATIVES
:
Training course on "Problematic behaviours at school" – Techniques to manage the classroom and analysis. Year 2011
NAME OF ORGANISER
:
USRV - UST Vicenza
LANGUAGE OF THE REVIEW
:
English
COUNTRY WHERE IT TOOK PLACE
:
Italy
REVIEW OF THE TRAINING INITIATIVE
:
Schools often consider the increase of problems concerning the aggressiveness, the bullying and hyperactivity as a real educational emergency.
The presence of students with attention and communication disorders as well as serious relational disabilities and the growing social distress make difficult the life at school and cause problems to teachers and professionals who often work with a high risk of failure and a resulting professional frustration.
Understanding these messages is often very difficult and it is necessary that the trainer learns to observe, to interpret and to intervene with the right tools and strategies. We can not, in fact, reduce or eliminate the behavior but it is necessary to identify the content in order to teach students having an alternative communication or managing their needs in a different way.
The course was aimed at providing a knowledge on strategies and tools needed to understand and effectively manage problematic behaviors at school both individually and within the classroom.
The course was addressed to the staff of the schools located in the Vicenza province: principals, teachers and caretakers.
After an introductory meeting the project was developed in two parallel training courses, "A" and "B".
The learning pathway A has provided information on the technique to analysie the behavior as a tool to handle problems on the serious learning disability and behavioral disorders: hyperactivity, ADHD, etc.
The learning pathway B has provided information on strategies to manage the classroom and the peer relationships.
The introductory meeting (April 1, 2011) was intended to describe the goals and contents of the two courses.
The participants could choose to participate in one courses or both.




NAME OF THE REVIEWING ORGANISATION
:
USRV

15 November 2012
[email protected] at the Future of Education Conference
The [email protected] projet will be presented at the third edition of the "Future of Education" international conference, held in Florence, Italy, on 13 - 14 June 2013. Over 250 participants from all over the world will attend the conference. The conference participants belong to the sectors of higher education, school education, vocational education and training as well as adult education, therefore representing all of the target groups of the [email protected] project.

School Inclusion - Copyright 2008 - This project has been funded with support from the European Commission



Webmaster:
Pinzani.it
- Materiale fotografico: ©
Yuri Arcurs
|
Dreamstime.com