Lifelong Learning Project - School Inclusion - Preventing Early School Leaving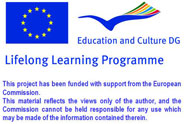 Training Initiatives

TITLE OF TRAINING INITIATIVES
:
From special educational needs to teaching differentiation
NAME OF ORGANISER
:
IPSSCTSP 'F. Datini' PRATO via di Reggiana 26
LANGUAGE OF THE REVIEW
:
English
COUNTRY WHERE IT TOOK PLACE
:
Italy
REVIEW OF THE TRAINING INITIATIVE
:
In the general context of the law on specific learning disorders and in order to facilitate the school integration and success, the project aims to achieve the following purposes:

- Set up training courses for regular and support teachers concerning the special teaching addressed to students with disabilities;
- Support the circulation of tools and educational materials produced by the participating schools that can be useful in other contexts.

In order to facilitate a deeper acquisition of the knowledge and skills covered in the training initiative, the whole project is structured on the basis of the following teaching methods:

-Learning by doing (learning through practical doing)

-Learning by thinking (learning through discussion and reflection caused by doing)

-Cooperative learning (learning through exchange and sharing of experiences).

Teachers involved: 40
Period: school year 2010-2011
Total amount of the Training Course: 18 hours
NAME OF THE REVIEWING ORGANISATION
:
Istituto Professionale di Stato Francesco Datini Prato

15 November 2012
[email protected] at the Future of Education Conference
The [email protected] projet will be presented at the third edition of the "Future of Education" international conference, held in Florence, Italy, on 13 - 14 June 2013. Over 250 participants from all over the world will attend the conference. The conference participants belong to the sectors of higher education, school education, vocational education and training as well as adult education, therefore representing all of the target groups of the [email protected] project.

School Inclusion - Copyright 2008 - This project has been funded with support from the European Commission



Webmaster:
Pinzani.it
- Materiale fotografico: ©
Yuri Arcurs
|
Dreamstime.com