Lifelong Learning Project - School Inclusion - Preventing Early School Leaving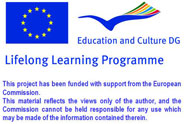 Training Initiatives

TITLE OF TRAINING INITIATIVES
:
Participación Del Alumnado En El Proceso De Evaluación
NAME OF ORGANISER
:
Marcela Senent (departamento de orientación)
LANGUAGE OF THE REVIEW
:
Spanish
COUNTRY WHERE IT TOOK PLACE
:
Spain
REVIEW OF THE TRAINING INITIATIVE
:
• Contexto en el que se realizó la buena práctica:
Durante los tres trimestres en los que se distribuyen los períodos de evaluación y calificación del rendimiento académico del alumnado.

• ¿Por qué has seleccionado esta buena práctica?
Es importante para que se sientan partícipes no solo en la evaluación sino en su propia comunidad educativa. Que el alumnado de su visión de la docencia produce mejoras metodológicas y se completa en proceso de enseñanza –aprendizaje.

• Habilidades adquiridas por los profesores implicados
• Calidad y mejora continua
• Flexibilidad profesional
• Aprendizaje de nuevas tecnologías
• Empatía; oportunidades de diálogo sobre las formas de enseñar y aprender que se aplican

• Impacto en su desarrollo profesional
• Facilita cambios de actitud de los y las alumnas hacia una mayor proactividad.
• Ambiente resolutivo: lo importante no son los problemas sino las propuestas de solución de los mismos.

• Comentarios finales
En la línea de integrar i prevenir el abandono escolar, esta manera de participar sorprende al alumnado, le acerca a los profesores y da rigurosidad al hecho de estar estudiando.
NAME OF THE REVIEWING ORGANISATION
:
Florida Ciclos Formativos

15 November 2012
[email protected] at the Future of Education Conference
The [email protected] projet will be presented at the third edition of the "Future of Education" international conference, held in Florence, Italy, on 13 - 14 June 2013. Over 250 participants from all over the world will attend the conference. The conference participants belong to the sectors of higher education, school education, vocational education and training as well as adult education, therefore representing all of the target groups of the [email protected] project.

School Inclusion - Copyright 2008 - This project has been funded with support from the European Commission



Webmaster:
Pinzani.it
- Materiale fotografico: ©
Yuri Arcurs
|
Dreamstime.com