Lifelong Learning Project - School Inclusion - Preventing Early School Leaving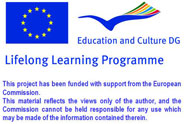 Training Initiatives

TITLE OF TRAINING INITIATIVES
:
"Educational teamwork for young person's school (re)integration"
http://www.segec.be/Documents/Cecafoc/Cat12full.pdf (page 36)

NAME OF ORGANISER
:
CECAFOC (Continuous Training Institute of Catholic education)
Continuous training for all the education staff under the network of Catholic education (primary and secondary), within the Federation Wallonia-Brussels.

LANGUAGE OF THE REVIEW
:
English
COUNTRY WHERE IT TOOK PLACE
:
Belgium
REVIEW OF THE TRAINING INITIATIVE
:
Aspects to consider:

- General framework / project in which the training initiative took place
Measures against school drop-out and to ensure all students equal opportunity for social emancipation, within the Federation Wallonia-Brussels.

- Reasons why the training initiative is relevant and selected
To promote a better understanding of the complex phenomenon of drop-out and be able to professionally address this issue.

- Skills acquired by the teachers involved
• In small teams, construction of devices supporting young person's school (re)integration.
• Presentation of experiences conducted in different schools, to enrich and support the construction of actions.
• Implementation of training sessions according to the work axes pointed through the Research: "young-adult" relationship, "young people's needs," "school-family" relationship, "sense of the school" ...

- Impact on the professional development
Tools for the implementation of a differentiated pedagogy, to which education staff is not trained.

- Final comments of the reviewer
2-day training module for educators.
The special place of the educator in the institution and his multiple levels of possible action will be considered as resources to work the various dimensions of training.

NAME OF THE REVIEWING ORGANISATION
:
INFOREF

15 November 2012
[email protected] at the Future of Education Conference
The [email protected] projet will be presented at the third edition of the "Future of Education" international conference, held in Florence, Italy, on 13 - 14 June 2013. Over 250 participants from all over the world will attend the conference. The conference participants belong to the sectors of higher education, school education, vocational education and training as well as adult education, therefore representing all of the target groups of the [email protected] project.

School Inclusion - Copyright 2008 - This project has been funded with support from the European Commission



Webmaster:
Pinzani.it
- Materiale fotografico: ©
Yuri Arcurs
|
Dreamstime.com