School Inclusion - Preventing early school leaving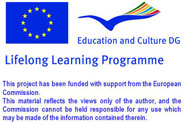 Dissemination
DISSEMINATION REPORT

Partners:
Wilsthorpe Business and Enterprise College

Name of the person involved in the event:
Roger Murfin

Date of the event:
27th November 2008

Type of Dissemination event:
Conference

Description of Dissemination Event:
National Association of School Business Management Conference. Information leaflets and verbal description of the project given to all delegates.

Target group:
School Bursars and School Business Managers

Number of people reached by event:
222

Held in:
Hinckley, United Kingdom

Outcomes and Results:
Information about the project and the project web site distributed to all delegates.

Supporting Documents:

All contents © 2019 by Pixel , all rights reserved