School Inclusion - Preventing early school leaving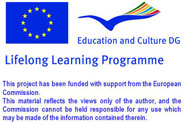 Dissemination
DISSEMINATION REPORT

Partners:
ZEPF - Universität Koblenz-Landau

Name of the person involved in the event:
Gabriele Dlugosch

Date of the event:
April 14th 2009

Type of Dissemination event:
Conversation

Description of Dissemination Event:
A conversation with a school psychologist was held.

Target group:
School psychologist

Number of people reached by event:
1

Held in:
Landau, Germany

Outcomes and Results:
A school psychologist was informed about the project and current activities. He is going to spread the information to colleagues.

Supporting Documents:

All contents © 2019 by Pixel , all rights reserved