Lifelong Learning Project - School Inclusion - Preventing Early School Leaving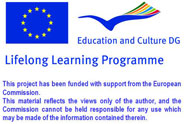 Database delle pubblicazioni

TITOLO DELLA PUBBLICAZIONE
:
L'impatto sociale della dispersione scolastica
NOME E COGNOME DELL'AUTORE/I
:
Marinella Sibilla
LUOGO E DATA DELLA PUBBLICAZIONE
:
Roma 2004
TIPOLOGIA DELLA PUBBLICAZIONE
:
article on web
LINGUA DELLA PUBBLICAZIONE
:
Italian
DESCRIZIONE DEI CONTENUTI
:
L'articolo propone una panoramica sul fenomeno della dispersione, anche operando una utile ricognizione terminologica.
COMMENTO SULLA PUBBLICAZIONE
:
Utile e agile strumento di consultazione
AUTORE DELLA RECENSIONE
:
Marco Manzuoli
ISTITUZIONE
:
IPS Francesco Datini

15 November 2012
[email protected] at the Future of Education Conference
The [email protected] projet will be presented at the third edition of the "Future of Education" international conference, held in Florence, Italy, on 13 - 14 June 2013. Over 250 participants from all over the world will attend the conference. The conference participants belong to the sectors of higher education, school education, vocational education and training as well as adult education, therefore representing all of the target groups of the [email protected] project.

School Inclusion - Copyright 2008 - This project has been funded with support from the European Commission


Comunicazione grafica:
Achrom.it
- Programmazione &
Web Marketing
:
Pinzani.it
- Hosting by:
Connectis s.r.l.

Materiale fotografico: ©
Yuri Arcurs
|
Dreamstime.com