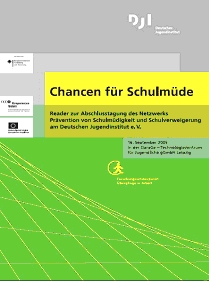 TITOLO DELLA PUBBLICAZIONE
:
Chances for school tired pupils

NOME E COGNOME DELL'AUTORE/I
:
Deutsches Jugendinstitut (Hrsg.)
LUOGO E DATA DELLA PUBBLICAZIONE
:
2006
TIPOLOGIA DELLA PUBBLICAZIONE
:
Online document, brochure
LINGUA DELLA PUBBLICAZIONE
:
German
DESCRIZIONE DEI CONTENUTI
:
• Documentation of a national conference
• Articles are the basis for discussions about strategies of good practice and about studies of the German Youth Institute.
• Experts from school, projects, youth help and politics report their experiences in dealing with school tiredness and school refusal.
• Overview of manifold methods and strategies of the projects that are involved in the Network Prevention of School Tiredness and School Refusal and their efforts regarding prevention, intervention and rehabilitation.

COMMENTO SULLA PUBBLICAZIONE
:
• Reader about the final meeting of the Network Prevention of School Tiredness and School Refusal of the German Youth Institute
AUTORE DELLA RECENSIONE
:
Dr. Gabriele Dlugosch
ISTITUZIONE
:
Zentrum für empirische pädagogische Forschung (zepf)
RUOLO
:
Head of the Competence Centre Health and Wellbeing