Lifelong Learning Project - School Inclusion - Preventing Early School Leaving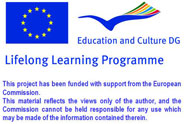 Contacts


Transnational Coordinator
Dr. Elisabetta Delle Donne
Pixel
Via Luigi Lanzi, 12
50134 Firenze
Tel. +39-055-48 97 00
Fax. +39-055-462 88 73
Email:
[email protected]
For further information please contact your national coordinator:


Italy - Mauro Di Grazia

Italy - Giuseppe Italiano

Italy - Stefano Zanini

Italy - Riccardo Rossi

Germany - PD Dr. Gabrielle Dlugosch
zepf. Center for Educational Research, University of Koblenz-Landau, Campus Landau
Email:
[email protected]

Greece - Dimitris Alimisis

Ireland - Art Ó Súilleabháin

United Kingdom - Roger Murfin

15 November 2012
[email protected] at the Future of Education Conference
The [email protected] projet will be presented at the third edition of the "Future of Education" international conference, held in Florence, Italy, on 13 - 14 June 2013. Over 250 participants from all over the world will attend the conference. The conference participants belong to the sectors of higher education, school education, vocational education and training as well as adult education, therefore representing all of the target groups of the [email protected] project.

School Inclusion - Copyright 2008 - This project has been funded with support from the European Commission



Webmaster:
Pinzani.it
- Materiale fotografico: ©
Yuri Arcurs
|
Dreamstime.com