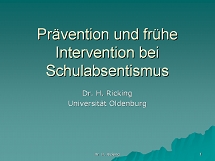 TITLE OF THE PUBLICATION
:
Bausteine der schulischen Prävention und frühen Intervention bei Schulabsentismus
SURNAME AND NAME OF AUTHOR(S)
:
Ricking, H.
TYPE OF PUBLICATION
:
Zeitschriften-Artikel, Online Dokument
LANGUAGE/S OF PUBLICATION
:
Deutsch
LANGUAGE OF REVIEW
:
German
DESCRIPTION OF CONTENTS
:
Der Beitrag bietet Bausteine für den präventiven und früh-intervenierenden Umgang mit Schulabsentismus. Nach einer Einleitung, in der der Autor auf die Zielsetzung seiner Arbeit und die Konzepte des Schulabsentismus eingeht, stellt er auf insgesamt 10 Bausteine der Prävention vor. Dabei wird unterschieden zwischen Bausteinen auf der Ebene der Schule, auf der Ebene der Klasse und auf der Ebene des Systems.
COMMENTS ON THIS PUBLICATION
:
Die Bausteine, die in diesem Dokument vorgestellt werden, sind zu einem großen Teil in dien Vorschlag zum Trainingsprogramm eingeflossen.
Der Autor stellte diese Bausteine auch bei Fortbildungen für Lehrer vor, sie können also als Handlungsanweisungen für Lehrkräfte verstanden werden. Derzeit arbeitet der Autor an einer ausführlichen Ausarbeitung der Bausteine.

NAME OF COMPILER
:
PD Dr. Gabriele Dlugosch
NAME OF INSTITUTION
:
Zentrum für empirische pädagogische Forschung (zepf)
Universität Koblenz-Landau, Campus Landau

ROLE
:
Leiterin des Kompetenzzentrums Gesundheit und Wohlbefinden