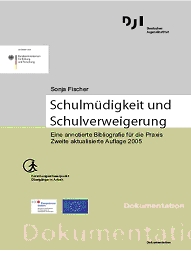 TITLE OF THE PUBLICATION
:
Schulmüdigkeit und Schulverweigerung. Eine annotierte Bibliographie für die Praxis

SURNAME AND NAME OF AUTHOR(S)
:
Fischer, S.
PUBLISHER
:
Deutsches Jugendinstitut e.V.
PLACE AND DATE OF PUBLICATION
:
München, 2005
TYPE OF PUBLICATION
:
Online Dokument, Broschüre, Bibliographie
LANGUAGE/S OF PUBLICATION
:
Deutsch
LANGUAGE OF REVIEW
:
German
DESCRIPTION OF CONTENTS
:
Die Bibliographie bietet PraktikerInnen im Handlungsfeld Schulmüdigkeit und Schulverweigerung einen Überblick über aktuelle und relevante Literatur. In drei Kapiteln finden 51 Publikationen Beachtung. Darunter Beiträge mit theoretischen und empirischen Analysen, sowie Begriffsklärungen, konkreten Hilfestellungen und Leitlinien für die Praxis und nicht zuletzt Informationen über Praxismodelle, die mit schulmüden und schulverweigernden Jugendlichen arbeiten.
COMMENTS ON THIS PUBLICATION
:
Die annotierte Bibliographie (2.Auflage 2005) ist im Rahmen des Projekts "Netzwerk Prävention von Schulmüdigkeit und Schulverweigerung des Deutschen Jugendinstituts e.V. (DJI) entstanden.
NAME OF COMPILER
:
PD Dr. Gabriele Dlugosch
NAME OF INSTITUTION
:
Zentrum für empirische pädagogische Forschung (zepf)
Universität Koblenz-Landau, Campus Landau

ROLE
:
Leiterin des Kompetenzzentrums Gesundheit und Wohlbefinden