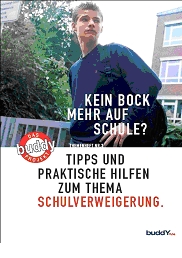 TITLE OF THE PUBLICATION
:
Kein Bock mehr auf Schule? Tipps und praktische Hilfen zum Thema Schulverweigerung

SURNAME AND NAME OF AUTHOR(S)
:
buddy e.V.(Hrsg.)
PLACE AND DATE OF PUBLICATION
:
2002
TYPE OF PUBLICATION
:
Online Dokument, Broschüre
LANGUAGE/S OF PUBLICATION
:
Deutsch
LANGUAGE OF REVIEW
:
German
DESCRIPTION OF CONTENTS
:
Informationen, Tipps und Arbeitsblätter zum Thema Schulverweigerer und den Umgang damit. Begriffsklärung, Daten und Fakten, Ursachen. Tipps und Hilfen für Lehrer um Schulverweigerung zu vermeiden, sowie Tipps zur ersten Hilfe bei aktiven Verweigerern. Ein weiterer Bestandteil der Broschüre sind Tipps direkt an Schüler, wie diese dabei mithelfen können ihre KlassenkameradInnen bei Schwänzen zu erreichen und zu unterstützen. Desweiteren werden Praxisprojekte für Schulverweigerer vorgestellt.
COMMENTS ON THIS PUBLICATION
:
Das Themenheft richtet sich an Lehrer, Eltern und Jugendliche selbst. Die Texte und Arbeitsaufgaben richten sich zum Teil direkt an die Jugendlichen.
NAME OF COMPILER
:
PD Dr. Gabriele Dlugosch
NAME OF INSTITUTION
:
Zentrum für empirische pädagogische Forschung (zepf)
Universität Koblenz-Landau, Campus Landau

ROLE
:
Leiterin des Kompetenzzentrums Gesundheit und Wohlbefinden