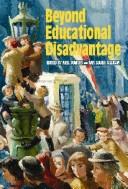 TITLE OF THE PUBLICATION
:
BEYOND EDUCATIONAL DISADVANTAGE
SURNAME AND NAME OF AUTHOR(S)
:
Edited by Paul Downes and Louise Gilligan
PUBLISHER
:
Institute of Public Administration
PLACE AND DATE OF PUBLICATION
:
Ireland 2007
TYPE OF PUBLICATION
:
Book
LANGUAGE/S OF PUBLICATION
:
English
LANGUAGE OF REVIEW
:
English
DESCRIPTION OF CONTENTS
:
This book offers new insights, rooted in current theory, as well as research, policy and practise into the topic of educational disadvantage – a topic that has been long debated by educationists. It is a compilation of papers and research from 46 Irish educationalists each of whom uses a different lens to capture the complexity of the issue. It indicated the relationship between poverty and educational failure and the lack of educational opportunity that leads to unemployment and poverty.
Six themes call for separate in-depth analysis across a range of disciplines encompassing education, psychology, philosophy, sociology and social policy. It examines themes from pre-school, primary, post primary and into adult and community education.
A concluding section seeks to build on previous chapters in o9rder to promote an agenda for a holistic second level change

COMMENTS ON THIS PUBLICATION
:
The book is a comprehensive compilation of educational insight into disadvantage and its consequences. It offers comprehensive contributions that, if adhered to, could change our practise – not only in Ireland but in the international context and into the future.


NAME OF COMPILER
:
Ann Caulfield
NAME OF INSTITUTION
:
Mayo Education Centre