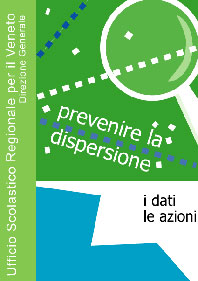 TITLE OF THE PUBLICATION
:
Prevenire la dispersione, i dati, le azioni
SURNAME AND NAME OF AUTHOR(S)
:
Carmela Palumbo, Gianna Miola, Barbara Sardella, Stefano Quaglia, Annamaria Pretto, Edoardo Menegazzo, Renza Ribul Alfier, Giovanni Chioetto, Grazia Calcherutti, Giuseppe Martini, Simonetta Bettiol, Giovanni Pontara
PLACE AND DATE OF PUBLICATION
:
Italia, Ottobre 2004
TYPE OF PUBLICATION
:
Volume
LANGUAGE/S OF PUBLICATION
:
Italiano
LANGUAGE OF REVIEW
:
Italian
DESCRIPTION OF CONTENTS
:
Dalla necessità di contrastare il preoccupante fenomeno della dispersione scolastica nasce l'azione dell'USR Veneto, descritta sul doppio versante dell'analisi del problema e delle soluzioni attuate per risolverlo.

Con dovizia di dati sono illustrate le diverse situazioni provinciali e il ruolo assunto dall'Osservatorio Regionale sulla Dispersione Scolastica, un organismo con il compito di sviluppare azioni di prevenzione dell'abbandono e di promozione del successo formativo a partire dai dati dell'Anagrafe Regionale dell'Obbligo Formativo (AROF), costituita d'intesa tra USR Veneto e Regione Veneto.

In Appendice una rassegna di riferimenti normativi e una nutrita bibliografia e sitografia.
COMMENTS ON THIS PUBLICATION
:
Primo rapporto regionale sulla dispersione scolastica a cura di USRV
NAME OF COMPILER
:
Camilla Tamiozzo
NAME OF INSTITUTION
:
USRV
ROLE
:
Collaboratore esterno