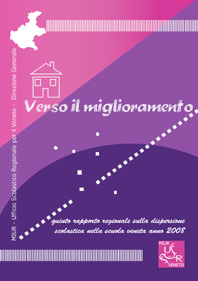 TITLE OF THE PUBLICATION
:
Verso il miglioramento
Quinto rapporto regionale sulla dispersione scolastica
SURNAME AND NAME OF AUTHOR(S)
:
Grazia Calcherutti, Giovanni Chioetto, Bruna Codogno,, Nadia Dallago, Laura Donà, Gianna Miola, Antonia Moretti, Marina Nostran, Anna Maria Pastorelli, Annamaria Pretto, Valeria Sambo, Alessandro Trevisan, Franco Vecchiato, Renzo Paolo Vedova
PLACE AND DATE OF PUBLICATION
:
Italia, ottobre 2008
TYPE OF PUBLICATION
:
Volume
LANGUAGE/S OF PUBLICATION
:
Italiano
LANGUAGE OF REVIEW
:
Italian
DESCRIPTION OF CONTENTS
:
I dati presentati in questo quinto Rapporto sulla dispersione scolastica in alcuni capitoli si pongono in continuità con quanto posto in essere nella lotta alla dispersione negli anni passati, mentre in altri si riferiscono alle novità ordinamentali introdotte nel 2007-08, testimoniando un impegno che ha visto le scuole venete in prima fila nel raggiungimento degli obiettivi prefissati.
I risultati positivi vanno letti anche come conseguenza di un sistema integrato che si avvale della formazione quale canale educativo atto a frenare quell'emorragia verso l'abbandono che per decenni aveva caratterizzato la nostra regione.

Il quinto monitoraggio della situazione scolastica in Veneto offre spunti di riflessione ai docenti, ai Dirigenti scolastici e a chi si occupa, in vario modo e sotto diversi profili, di istruzione e formazione.
COMMENTS ON THIS PUBLICATION
:
Quinto rapporto regionale sulla dispersione scolastica a cura dell'USRV
NAME OF COMPILER
:
Camilla Tamiozzo
NAME OF INSTITUTION
:
USRV
ROLE
:
Collaboratore esterno