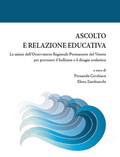 TITLE OF THE PUBLICATION
:
Ascolto e relazione educativa
Le azioni dell'Osservatorio Regionale Permanente del Veneto per prevenire il bullismo e il disagio scolastico
SURNAME AND NAME OF AUTHOR(S)
:
Giuseppe Milan, Fernando Cerchiaro, Marco Vinicio Masoni, Patrizia Santovecchi, Elena Zambianchi, Gianluca Gini, Pier Cesare Rivoltella, Ciro Pellone, Michela Possamai, Paolo De Stefani, Andrea Bergamo, Milena Cammarata, Stefano Allorini, Ernesto Gianoli
PLACE AND DATE OF PUBLICATION
:
Italia, novembre 2011
TYPE OF PUBLICATION
:
Volume
LANGUAGE/S OF PUBLICATION
:
Italiano
LANGUAGE OF REVIEW
:
Italian
DESCRIPTION OF CONTENTS
:
La scuola della qualità e delle competenze, oggi più che mai, non può tralasciare la condizione dello star bene, indispensabile per la piena maturazione della persona. Per favorire la crescita responsabile dell'Autonomia Scolastica si devono formare professionalità e sviluppare strumenti che consentino alla Scuola di affrontare questa sfida importante e impegnativa. Il presente volume, rivolto ad insegnanti e operatori psicopedagogici, è una documentata testimonianza di alcune azioni realizzate dall'Osservatorio Regionale Permanente del Veneto (di cui alla D.M. 16/07) con l'intento di diffondere sul territorio regionale e nazionale spunti di riflessione e tracce operative utili a sostenere percorsi formativi e progetti educativo-didattici per la prevenzione del disagio e la promozione del benessere scolastico delle giovani generazioni.
COMMENTS ON THIS PUBLICATION
:
Il presente volume, curato da Fernando Cerchiaro, responsabile dell'Osservatorio fin dal suo insediamento e da Elena Zambianchi, componente e Segretaria dello stesso, rappresenta un prezioso sforzo di documentazione
e sintesi del percorso fin qui svolto, a testimonianza del traguardo ad oggi raggiunto.
NAME OF COMPILER
:
Camilla Tamiozzo
NAME OF INSTITUTION
:
USRV
ROLE
:
Collaboratore esterno